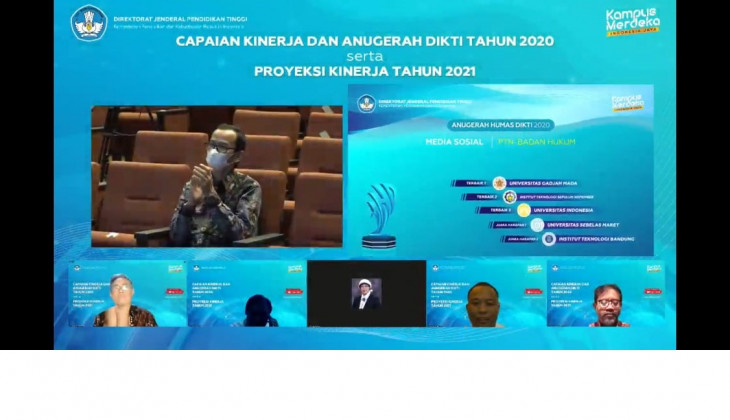 Universitas Gadjah Mada (UGM) obtained the 1st Best Award for Homepage Management in the Legal Entity State Universities category in the 2020 Higher Education Award. Not only that, but UGM also gained the 1st Best predicate for Social Media Management. Dikti (Higher Education) announced this achievement at the 2020 Higher Education Performance Achievement and Award and Performance Projection for 2021 on Wednesday night (23/12).
For the Homepage Management Award, UGM outperformed ITS, IPB, UI, and Airlangga University. Meanwhile, for Social Media Management, UGM outshone ITS, UI, UNS, and ITB.
UGM Chancellor-Secretary, Drs. Gugup Kismono, M.B.A., Ph.D., stated that the UGM achievement was a form of appreciation from its performance in handling public communication through homepages and social media.
"UGM carries out hard work and improvement collaboratively involving some internal units and external partners to assist stakeholders," said Gugup.
Gugup assumed that the management of pages and social media was increasingly important for image development institutions and improved public communication. Gugup also added that every university must respond to technology's speedy development so that the information can effectively be relinquished to the wider community, especially to the youths.
"UGM keeps adjusting the mix of communication media that increasingly influences the youths without forgetting their seniors," he added.
Meanwhile, the Director-General of Higher Education, Prof. Nizam, praised all winners from both higher education public relations and LLDIKTI. The award given was a form of appreciation to people in the field of public relations who have shared various news from the campus and presented it to the public.
"Higher education must be a water source for the community, uplift the life of the nation, and empower the community," said Nizam.
Author: Satria
Translator: Natasa A