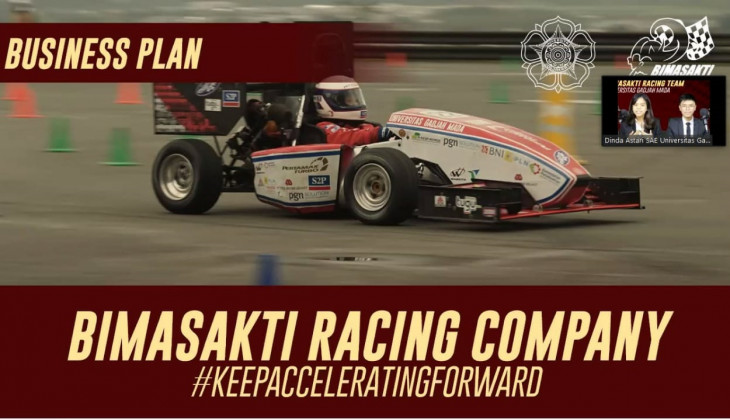 Bimasakti Racing Team UGM won third place in an international competition, the 2020 Formula SAE-Australasia, on 11-16 December 2020. The Bimasakti Team managed to bring home awards in the Business Event Category. This achievement marked Bimasakti as the only Indonesian team to receive the award.
The team started their journey at the competition from the Design Event stage, which required them to present the design of the car that had been built in the past year. The final score of a total of 112.64 points got them secured the top 9 positions.
At the next stage, Cost Event, Bimasakti Team had to present the effective car manufacturing process at minimum cost. They managed to get to the top 4 with 82 points, only 3 points away from the top 3 positions.
At the final stage, Business Event, Bimasakti UGM presented a theme that aimed to revolutionize the formula racing industry in Indonesia. The main idea was to provide learning materials for young racers and engineers, especially for the FSAE team and Mechanical Engineering students in Indonesia. At this stage, they successfully earned third place and top 5 positions at the overall international competition.
Iqbal Faishal, captain of the 10th generation Bimasakti Team, said that this year's achievement was the outcome of all team members having to buckle down and prepare everything for approximately one year. This also proved they were capable of achieving despite the Covid-19 pandemic.
"We prepared the car better this year amid the Covid-19 pandemic. The team had to prepare many requirements for various sectors, from presentation materials to the facilities used to ease our running at the online 2020 Formula SAE competition.
Besides, we compete with various international participants from Australia, India, Poland, and other countries," said the mechanical engineering student, Sunday (27/12).
Iqbal was also grateful for the support from various parties to Bimasakti UGM. It enabled him and the team to give their all, strive for, and survive the long process to achievement.
"Hopefully, this accomplishment can be a stepping stone for Bimasakti Team to continue to excel, bring home more awards, and contribute to the alma mater and our beloved Indonesia," he concluded.
Author: Hakam
Translator: Salma F