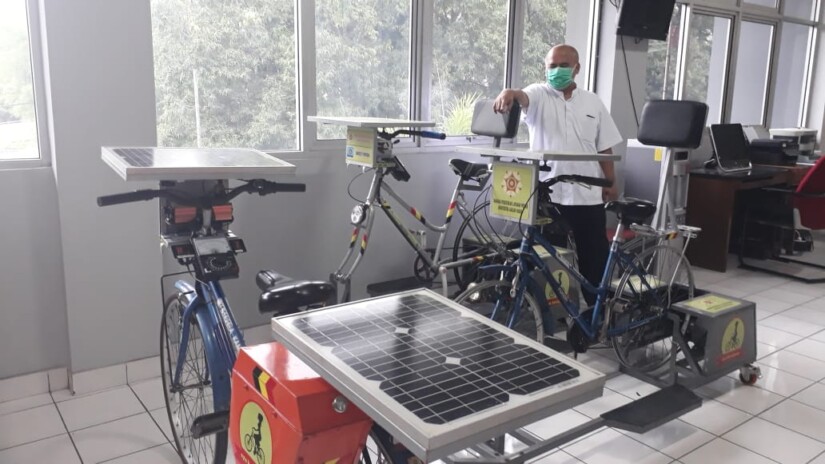 The Forum of Primary Service Education (WPLP UGM), along with the UGM bicycle workshop and the Vocational School, designed a workbikecycle prototype. This innovation is a kind of bicycle that is modified for both sports and work.
This bicycle produces energy from pedaling, which later can be converted into electrical energy used for electronic equipment used to work, such as laptops.
"Combining work utilizing a laptop along with pedaling a bicycle will make exercise more sufficient and prevent the risk factors that might cause Covid-19 infection and still optimally being productive for their work," said Wistiono, the WPLP manager who is also the initiator of this tool development on Wednesday (30/12).
WPLP has developed this tool since early September with support from the UGM Directorate of Assets and direction from the Vice Chancellor for Human Resources and Assets and partners from Blora Smart Asset. To date, some patients and clinical staff have already utilized three prototypes at the Korpagama Clinic.
He also explained that developing this bicycle aimed to reduce the risk factor for the health drop towards UGM civitas members, triggered by a lack of exercise and work-related stress. He also added many UGM civitas members have conditions such as hypertension, diabetes, heart problems, kidney problems, movement disorders, and others.
"The idea appeared because of concerns about patients, community, and bicycles' trend during the pandemic situation. Some elderly patients have comorbid conditions, and deaths are very prone to occur to these people during the Covid pandemic," he explained.
The Covid-19 pandemic also raises new challenges in doing exercise or sports because people, particularly the elderly who are more vulnerable to virus transmission, are no longer feel free to do exercise. Besides, there is also a difficulty in finding proper time to do exercise due to time-consuming work.
Wistiono explained that his party and team attempt to overcome the lack of time for doing exercise and limited space for sports during the pandemic by combining both; work and sports time.
"The goal is that hopefully, the community will have a healthy life, productive, and prosperous. By combining the working time and exercise in a limited space. So that the job and sports are going well. It also increases immunity and prevents stress and risk factors for stroke, hypertension, diabetes, and heart problems," he added.
The Forum of Primary Service Education, which coordinates all UGM clinical services, also provides primordial prevention services for catastrophic diseases, namely non-contagious diseases with a high mortality rate, by collaborating with various related parties.
In line with this innovation's development, it is also planned to monitor the user's health with the UGM Academic Hospital's heart team. According to WPLP's strategic plan, this plan prevents primordial non-contagious diseases and efforts from preventing Covid-19 transmission for at-risk civitas members.
Besides a static bicycle, another prototype currently being developed is a dynamic bicycle equipped with solar panels to provide electrical energy that can be used for various activities.
The goal is these two tools expected to meet the needs of working in the office or at home or for those who would like to do outdoor activities at once.
Author: Gloria
Translator: Natasa A