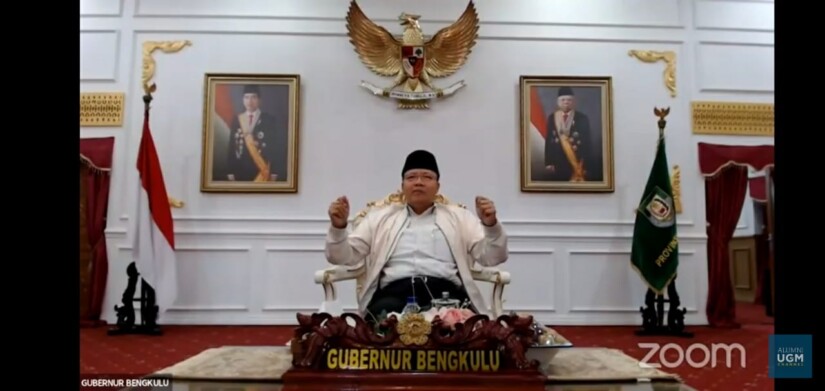 Tuesday (19/01), the Governor of Bengkulu, Dr. drh. H. Rohidin Mersyah, M.M.A, gave UGM alumni advice not to be complacent about the graduation result from college in the virtual debriefing graduation of the UGM prospective postgraduate program for the January 2021 period. However, they still need to continue to learn further.
He said that UGM prospective postgraduates would soon depart from campus in a short time and limited space for study. Next, we will upgrade to the next step in the real campus, which is none other than life itself.
"Congratulations to the alumni, welcome to the community life, and please do not stop learning," he said.
Rohidin said that indeed, on campus, students commonly learn in limited space and time. On the other hand, in community life, the learning process will be limitless and broader with more complex and unpredictable exams.
Accordingly, he reemphasized the alumni not to stop learning and proceed to sharpen their abilities. Rohidin, as an alumnus from the Faculty of Veterinary Medicine (FKH) UGM, believes that in terms of scientific competence, UGM alumni are undoubted. Even so, life today is turbulent. Many big challenges awaited ahead in the world community who desire life to be easy, low-cost, instant, and comfortable. Meanwhile, the resources, carrying capacity of the environment are limited. Not to mention, the complexity of the problem is also no longer linear.
"Hence, we desperately need true graduates with qualified characters," he said.
The intended characters are ones with good morals, such as honest, responsible, humanist, and friendly. Besides, they should have good performance characters consisting of hardworking, strong, resilient, persistent, and good moral characters.
Meanwhile, the President Director of PT. Waskita Karya, Tbk., Ir. Destiawan Soewardjono, M.M., in his remarks, explained the importance of upholding a culture of integrity at work. Without integrity, there will be destruction in the work system. There will appear some major obstacles that can affect the performance. Some other cultures are also important to be implemented in the workplace. They are professionalism, teamwork, and superior work culture. He admitted that he had implemented this work culture in the place he works. Surprisingly, it gives a positive impact on his company.
In addition, he also advised UGM prospective graduates to assure that their hard work remains with them in maintaining the achievements and goals they have aspired to all this time. It is expected that they would implement the knowledge they got on campus to social life, and hopefully, it can also be valuable to the community life, nation, and state.
Author: Ika
Translator: Natasa A