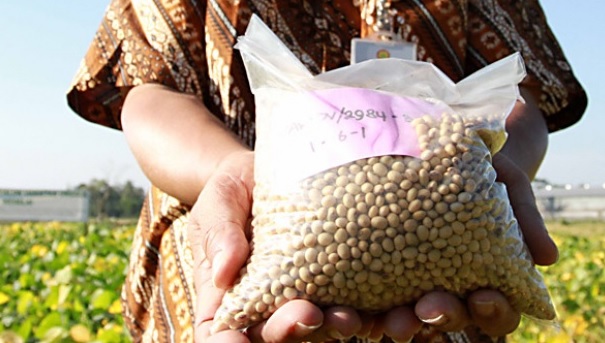 In early 2021, various national problems arose, such as the increase in the Covid-19 case, requiring several areas to re-implement the PSBB, scarcity, to a cost increase of soybean. This scarcity and cost increase in soybean is caused by the condition of the soybean supplying country currently affected by La Nina, strike actions, and a surge in demand from China.
Subejo, SP., M.Sc., Ph.D., as a lecturer at the UGM Faculty of Agriculture, appraised that this condition was predictable seeing from the condition of soybean consumption and production in Indonesia. First, soybean demand has increased every once in a while, and it is directly proportional to the population increase. Besides, soybeans have become the raw material for tempeh and tofu as daily side dishes for Indonesia's social levels.
"Data from the Ministry of Agriculture (2018) shows a trend of increasing soybean consumption per capita/year. It was at 8,776 Kg/capita/year in 2017 to 8,857 Kg/capita/year in 2018. These increasing demands for soybeans as direct raw materials for various food products resulted in bigger interdependence on soybeans too," he said on Wednesday (20/1).
Subejo also highlighted another fact that national soybean production tended to decline or be stagnant. He revealed that historically, Indonesia had met self-sufficiency in soybeans in the 1990s, when soybean production was more than 1.5 million tons/year. However, because of the increasing demand and various production problems, the national production capacity became continuously stagnant, even in some years, it was less than 900,000 tons/year. Eventually, in 2020, the production was nearly 1 million tons, but it was still incomparable from the national demand of more than 2 million tons/year.
Subejo added that neither the government nor farmers in Indonesia were concerned about the soybean condition in which the production had scantier numbers than the amount produced. This condition occurred because they assumed that soybeans were considered less profitable and attractive, both in cost and production capacity. Additionally, local soybean products got rid of cheaper imported products because they received subsidies from the origin producing countries. Besides, government and local distributors more warmly welcomed them.
Geographically, Subejo also revealed that Indonesia's production capacity as a tropical country could not completely compete with production capacity in a four-season country. The average soybean production in Indonesia is less than 1.5 tonnes/ha. Simultaneously, four-season countries can produce up to more than 2 tonnes/ha of material, reaching an average of 3 tonnes/ha.
Hence, Subejo said that today is a momentum for the central government and local governments, including villages, still having potential agricultural land. They can provide infrastructure support, post-harvest, and an efficient trading system to revitalize national soybean production capacity.
"If the government implements the soybean revitalization policies and programs in an integrated manner from upstream to downstream aspects, it is likely very promised to solve soybean import's dependency problem. If we have less dependency on imported soybeans, price shocks on the international market will not be too influential to soybean prices in the national market," he explained.
Subejo said that the ministry of agriculture could initiate by cooperating with universities to develop some superior soybean seeds based on their regional/local conditions. Furthermore, there should be encouragement on providing incentives and supporting good trading systems.
Subejo added another important thing. The government should limit the dependency on soybean imports that later can boost local soybean prices, and in turn, it will affect an increase in the capacity of national production. It is also necessary for the government to rapidly provide and extend farmers' intensive support to rapidly boost farmers' adoption of prospective new varieties of soybeans and sustainable production stability.
"Several national superior soybean breeding results show quite prospective results with productivity above 2 tonnes/ha. UGM has once introduced one of them; it is called Mallika black soybean. The government should adopt soybean seeds with high production potential with infrastructure, inputs, and a more efficient marketing system. This action will be considered prospective in improving local soybean prices. Hence, soybean production becomes more competitive, and the dependency on imported soybeans will be declining," he concluded.
Author: Hakam
Photo: business.tempo.co
Translator: Natasa A