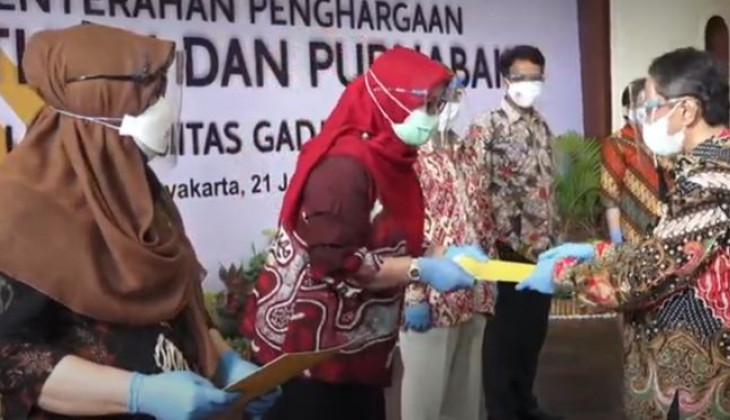 A total of 793 teaching and academic staff at Universitas Gadjah Mada received loyalty and retirement awards at Senate Hall room, Thursday (21/1). Vice-Rector for Human Resources and Assets, Prof. Bambang Kironoto, symbolically handed over the award certificates directly to some representatives of the award recipient, the rest of which also received them online.
HR Secretary Paminto Adhi, S.E., M.Sc. said the loyalty and retirement awards were a form of UGM appreciation for the teaching and academic staff who have put their dedication, loyalty, honesty, skill, and discipline while working at UGM. "The awarding can foster a sense of pride, exemplary attitude, fighting spirit, motivation to work and make a positive contribution to UGM, and increase the devotion to the nation and country," said Paminto.
The loyalty and retirement awards were given to 247 teaching staff and 546 academic staff from 41 work units. Prof. Gunawan Sumodiningrat, as the retirement award recipient, admitted that he is grateful for the given opportunity to contribute to the nation by educating prospective leaders who are currently pursuing higher education at the UGM campus.
"We tried to give our best throughout our time of serving (at the university). Thank you for the award given. We hope the relationship will continue even after retirement," Sumodiningrat said.
Gunawan advised UGM to keep carrying out the three principles of higher education by always upholding humanity and UGM values. "Hopefully, UGM will continue to implement the Tri Dharma (three principles of higher education) in accordance with its jargon locally rooted, globally respected," he said.
UGM Rector, Prof. Ir. Panut Mulyono, M.Eng., D.Eng., in his remarks, expressed his appreciation for the teaching and academic staff for their dedication and loyalty throughout their serving until retirement. For those of the UGM family who have entered their retirement period, the Rector wishes them good health and a long life ahead. For those still serving, the Rector hopes they continue the contribution to moving UGM forward.
"To staff and lecturers entering their retirement period, enjoy your retirement. I wish you all good health always. For those still in charge, we hope to continue working to create innovative and beneficial ideas for the nation and country," he concluded.
Author: Gusti Grehenson