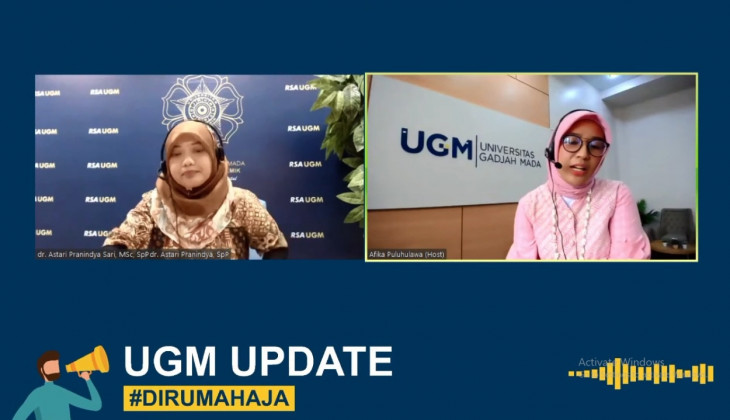 The UGM Update #DIRUMAHAJA talk series was back on Thursday (21/1). Bringing the topic 'Talking About Vaccines,' the talk invited a lung specialist at RSA UGM (academic hospital), dr. Astari Pranindya Sari, M.Sc., Sp.P. It was broadcast live through various UGM social media platforms and available on the UGM Youtube channel here.
During the discussion, Astari explained the vaccines' importance in handling and overcoming the Covid-19 virus spread. According to her, there are two reasons why it is important. First, Covid-19 cases in Indonesia continue to increase, with positive cases recorded at more than 900 thousand in total. It is also supported by other facts, such as the mortality percentage and positivity rate in Indonesia exceeding the world's average standard.
Second, the spike in both positive cases and mortality occurs even with the availability of drugs. Patient mortality is still increasing despite many drugs being available for positive patients in Indonesia. As a result, Astari said her party decided to restore the fundamental principle known as prevention is better than cure. Through this basis, vaccination becomes important because it is among the prevention means. Other attempts, such as 3M or health protocols (wearing masks, physical distancing, and washing hands) and 3T (Tracing, Testing, Treatment), must also be put into practice.
"Everything is interconnected and unable to stand alone," she explained.
Regarding the vaccine rejection and protests from several people, Astari aired her concerns. She said a vaccine's journey to existing and be distributed to the people up to this time requires a long process from laboratory tests with animal objects, proceed to clinical trials consisting of three phases, to discover the efficacy percentage at last.
Astari said efficacy has requirements to complete too. WHO requires the vaccine efficacy is 50 percent at a minimum and must pass at least the phase three clinical trials. As we know, the clinical trial led by Prof. Kusnadi Rusmil in Bandung reached 65.3 percent. This figure is higher than the WHO requirement, enabling it to obtain EUA licensing from BPOM (National Agency of Drug and Food Control).
"By knowing this process, I hope the public understands that it intends to prevent the virus from spreading and is taken very seriously. Perhaps, some people think they can build antibodies by being exposed to the virus first. However, this is unethical from a medical perspective because there have been attempts to manufacture vaccines. Besides, it is also dangerous. Hence we hope the public can accept and support this vaccine," she said.
On choosing Sinovac over others, Astari said it was due to Sinovac being more stable. She said, principle-wise, all vaccines are more or less the same as the target is to form antibodies against S protein in the virus. Yet, for Sinovac, it uses an inactivated virus or a virus that has been killed. For others, such as Pfizer and Moderna, which modify the viral mRNA without killing it, they are less stable, albeit having higher efficacy.
"The instability refers to the need of storing vaccines at certain minus temperatures. Forwarding information from BPOM, America found cases that showed Serious Adverse Events or fatal situations for patients following the use of these vaccines. As for Sinovac, which has passed the phase three clinical trial in Indonesia, a similar case has never been encountered," she said.
Lastly, on the possibility of virus mutations affecting the vaccine effectiveness, Astari advised the public not to worry. There has not been much thorough information about the impact on vaccine effectiveness, and it is unclear such mutations occurred in which part of the virus.
"The current vaccines work to block S protein, which looks and operates like the virus' hands. As long as the mutations that occur are not on the hands, like on the body, the vaccine antibodies can still block it," she concluded.
Author: Hakam