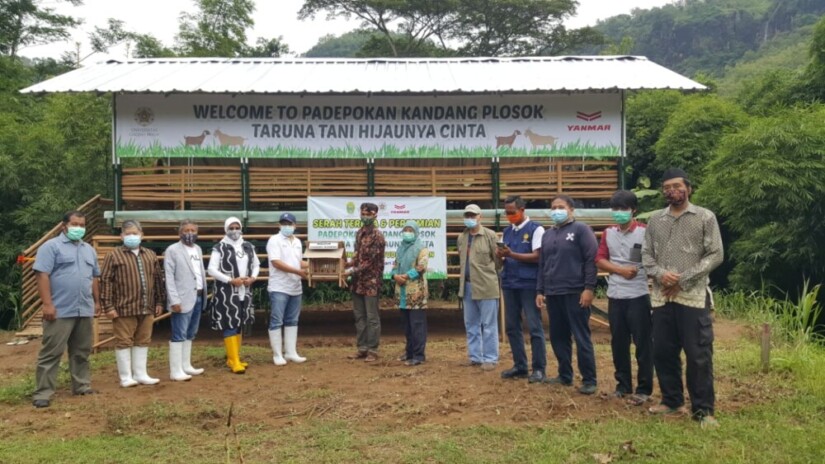 Department of Agricultural and Biosystem Engineering, UGM Faculty of Agricultural Technology (FTP) officially handed over the communal sheepfold in Sriharjo Village, Imogiri, Bantul, on Saturday (30/1). The sheepfold distribution is part of Agro-Environmental Edu-Park Technology's assistance efforts in Sriharjo Village since 2018 due to a collaboration with Yanmar Environmental Sustainability Support Association (YESSA), Japan.
Prof. Lilik Soetiarso, as the head of the supervisor, was a party who handed over this communal sheepfold, including an area of 8×6 square meters to Anton, the head of the Youth Farmer of "Hijaunya Cinta" Group, at the location of the communal enclosure. There were also village officials, local communities, and several companion representatives from the Faculty of Agricultural Technology, the Faculty of Animal Husbandry, and the UGM Center for Community Economic Studies who witnessed this handover activity.
Prof. Ambar Pertiwiningrum, as a member of the supervisor team, said that the construction of a communal sheepfold becomes one of the learning media in the Sriharjo Village Agricultural Technology Park that is expected to improve the sustainable economy of the local community. "Hopefully that this assistance effort can improve breeders financially," she said
The UGM Faculty of Animal Husbandry Professor added that this assistance and empowerment activity for breeders initiated with education to the community about sheep, integrated animal husbandry, and waste processing, conducted along with researchers from the UGM Center for Community Economic Studies as a supervisor team. "Next, the cooperation between UGM Faculty of Agricultural Technology and village community self-subsistent are parties who then proceeded the construction of a communal sheepfold," she said.
Meanwhile, Lilik Setiarso declared that the Sriharjo Village Farmers were parties who would receive this sheepfold as a form of assistant effort. He hopes that this sheepfold can boost the profit of livestock in the area. Therefore, the team from UGM FTP will proceed to assist. "The applications of knowledge and the technology provided will later benefit them," he concluded.
Author: Gusti Grehenson
Translator: Natasa A