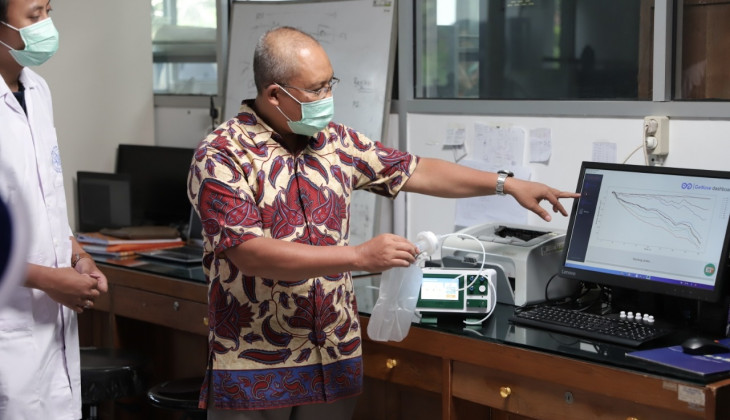 UGM Covid-19 screening tool, GeNose C19, has now been increasing demand and being a viral discussion among the public from time to time. Some of them gave their appreciation for GeNose C19 because it is more practical, pain-free, and affordable compared to other Covid-19 screening tools. Regrettably, after receiving distribution and marketing permits, several parties took advantage of GeNose, particularly in setting the market prices. As the one that is recently sold on one of the online shopping platforms in the country.
"There, you can see some parties sell GeNose at various prices. There are 75, 80, and even 90 million," said Dr. Hargo Utomo, MBA., as a Director of the UGM Directorate of Business Development and Incubation on Tuesday (2/2).
Hargo maintained that PT Swayasa Prakarsa had managed the GeNose distribution. To date, there have been three official distributors of GeNose C19, and then the other three distributors ensue. Hargo also explained that GeNose's Highest Retail Price (HET) is IDR 62 million per unit (before tax).
"The price has been fixed, and it is not allowed to sell this tool above fixed-price," said Hargo.
Therefore, Hargo hopes that the public will be careful and cautious about the offered price by some GeNose sellers except for the appointed official distributor. Currently, GeNose is not yet marketed through online shopping platforms.
Additionally, Hargo, who also represented UGM Science Techno Park, explained that the GeNose C19 marketing is currently prioritized to prevent Covid-19 in health services, hospitals, public services, government, schools, and Islamic boarding schools, campuses, and companies/industries.
"At this stage, GeNose has not been prioritized for the household or individual scale," he concluded.
Author: Satria
Translator: Natasa A