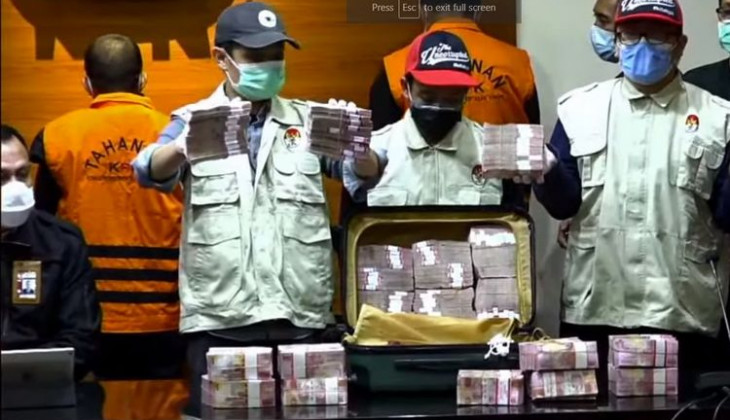 Nurdin Abdullah, a Governor of South Sulawesi, was recently named a corruption suspect. This news is considered shocking because previously, Nurdin Abdullah was known as an ideal governor who received many achievements. This hot news circulated over the community after he was caught in a Hand-Catching Operation (OTT) by the Corruption Eradication Commission (KPK) on Friday night (26/2).
Several accomplishments that he has successfully obtained include the Bung Hatta Anti Corruption Award (BHACA) in 2017, the award for compliance with public service standards from the Ombudsman of the Republic of Indonesia (ORI) 2017. Moreover, he had also received the Main Service Star Award for Cooperatives and SMEs from President Joko Widodo in 2016.
Muhammad Fatahillah Akbar, S.H., LL.M, as a UGM Criminal Law expert, stated that authority could not be used as a reference to determine whether or not he or she commits corruption. The higher authority, the possibility for a person to commit corruption is also high if there is a subtraction on accountability.
"We have a formula for corruption. Suppose a monopoly substantiates discretion or authority. When power gives very vigorous authorities, his authority later leads him to the monopoly. To sum up, the formula of corruption can be formed by Discretion (D) + monopoly (M) - Accountability (A) = Corruption. That'sThat's the foremost formula of people in committing corruption even though there are also a lot of other motives in corruption," he said.
Akbar also mentioned that the motive of corruption in regions is highly influenced by decentralization policy. Moreover, when there is a shift from Law 33 of 2004 to Laws No. 22 and 25 of 1999, there is a tremendous change in the region's policy that makes its authority more powerful.
"I had once conducted a young lecture research funded by UGM in 2016 and found out that there was a high corruption happening in regions because of a lack of accountability," he said.
The lack of accountability will still give a strong influence for people to commit corruption even though there have been procurement on the E-Procurement or electronic procurement and increased supervision by the BPK-KPK to reduce corruption.
"Thus, one of the most preventive ways to corruption is increasing accountability. Since almost all activities are mostly online, we can take advantage of it. Banyuwangi has attempted to display the income and expenditure of the APBD through quite big billboards so that everyone can supervise them, to monitor finances in their area," he added.
Akbar mentioned that online finance monitoring effectively prevents corruption even though it will not be easy to actualize a good system in the middle of the decentralization era with 34 provinces and approximately 500 districts/cities.
"Indeed, it won't be easy. Still, we should instill accountability to 34 provinces. They should be transparent on income and expenditure, procedures and others," Akbar revealed.
Akbar added that as a way to give a deterrent effect to people who commit corruption, it is necessary to enact Asset Confiscation Law since KPK Law and the Corruption Law have not had an optimal execution to be implemented.
"We don't have an Asset Confiscation Act yet. It has been once discussed but was not included in the prolegnas. A bill related to it has been released, but it still has no clue how come it hasn't become a priority. Later, in the future, the proposal for returning money to the country is mandatory and can confiscate the property of the perpetrator," he explained.
He mentioned that the deterrent effect regarding Asset Confiscation Act had implied within replacement money payment. For example, if someone corrupts 20 billion rupiahs, he must return 20 billion. Regrettably, there is a weakness that he should have to pay 20 billion, or if he can't pay, he will be sentenced to 2 years in prison as a replacement.
"The replacement had made most corruptors choose to go to prison because when he was imprisoned, there would still be remissions and so on, and they would not return the money. So, it is not impoverished because you can still choose the money or the prison. It will be different if there is a release on the Asset Confiscation Act policy," he said.
Akbar emphasized that maintaining and building self-integrity from corruption is not easy. Although obtaining some accomplishments, when he held enough power in his hand, it would never be easy to protect himself from committing corruption.
"We should consider many aspects to avoid corruption. One of the foremost keys is integrity. It is a note for each of us in the future to build and maintain integrity that is quite challenging," he said.
Author: Agung Nugroho
Photo: kompas.com
Translator: Natasa