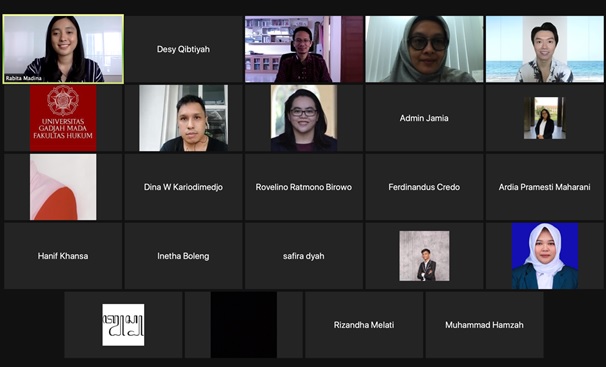 As a medium for the community to further learn about UGM Faculty of Law, Law Career Development Center (LCDC) of UGM Faculty of Law organized Education Week open for the public on 8-10 April 2021. It provides information access for anyone who puts high interest in the UGM Faculty of Law. There are also tips and tricks of career discussion. This webinar is broadcasted through zoom meeting and official Instagram of @law.ugm and Youtube Channel "Kanal Pengetahuan FH UGM" as a way to open broader access. Education Week is an annual event that has a different focus each year. In 2019, it discussed the scholarship from over the world and its registration procedure. In 2020, the discussion focused on tips and tricks in choosing universities, registration preparation, and how to study effectively.
Meanwhile, this year's implementation focuses on the UGM Faculty of Law's study programs and its career perspective through interactive conversation with the source persons in a zoom platform. There are several different topics about the UGM Faculty of Law on each day. On the first day of implementation on 8 April 2021, at 13.00-14.30, a topic about law degree and master of notary studies was raised. This topic was led by several speakers such as Dr. Richo Andi Wibowo, S.H., LL.M (Secretary of Bachelor of Law Study Program), and Dr. Destri Budi Nugraheni, S.H., M.Si. (Head of Master of Notary Program). Besides, there was also a sharing session with the alumni, namely Wyncent Halim, S.H., as a UGM Bachelor of Law alumni – Associate in AHP Law. The second session proceeded to LCDC UGM FH topic with Devita Putri, S.H., LL.M. (Chairman of LCDC FH UGM), as a source person.
"For you who wants to be notary, you must have a title as Bachelor's Degree or Master's Degree of Law and UGM Faculty of Law has facilitated these needs. Magister Kenotariatan has got A-Accreditation. Moreover, there are so many lecturers well-mastered in terms of scientific capacity," said Desti Budi Nugraheni.
In its webinar process, on the first day, there were various webinar participants. One of them was Muhammad Sakti Maula from High School 10 Padang, who was accepted into the S1 UGM Law program through SNMPTN (National Selection for State University). "This webinar is so beneficial to me in increasing confidence to learn in UGM FH and introduce me for further steps to do to make it easier. I hope there will be chances of this such webinar event ahead," Sakti said.
In the next 9 April, there will be a discussion about the study program of Master of Law (around Yogyakarta) and Master of Health Law. Meanwhile, on the last day, there will be a discussion about the Master of Law Study Program (around Jakarta), Master of Business & State Law, and Doctor of Law.
Author: Desy