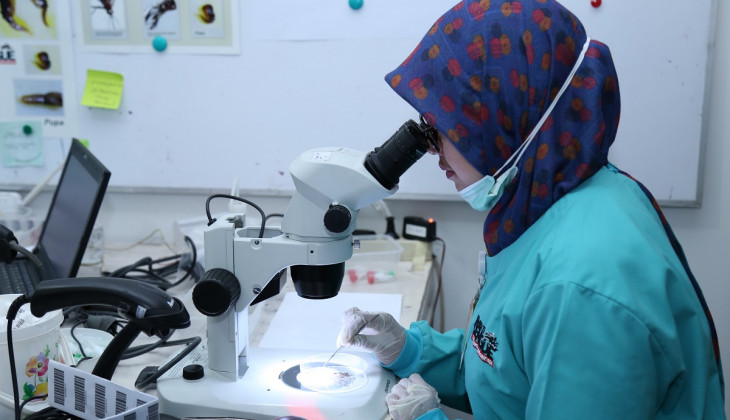 A collaboration between UGM, Monash University Australia, and Tahija Foundation has been built officially to develop a technology implementation model applicable in Sleman and Bantul. It is a Wolbachia Mosquitoes technology to reduce the DHF (Dengue Hemorrhagic Fever) risk cases up to 77 percent in Yogyakarta. This effort is initiated by the World Mosquito Program based in Yogyakarta.
"The pandemic unites universities, governments, industries, and philanthropies to encounter a problem collectively. Many parties also give support to conduct research that is real-problem-solving oriented within the community," said the Chancellor of UGM, Prof. Ir. Panut Mulyono.
On the other side, Trihadi Saptoadi, as the Head of the Tahija Foundation, revealed that WMP Yogyakarta not only has focused on increasing competency, ability, and knowledge but also in discipline, hard work, and loyalty in building a professional attitude in research.
"This official signing is a new challenge to us. We will remain to collaborate its innovation on Sleman and Bantul. Even though WMP has persisted for ten years, implementing a new regency has never been easy because it requires the community's deal and understanding wholly," he said.
As a project leader of WMP Yogyakarta, Prof. Adi Utarini considered this agreement as a new stage, as an effort to achieve a target to reduce DHF risk within the community.
"Even though a research result showed that this technology had been a success, it won't wipe out the challenge itself. It still requires support from policy and local wisdom. Hence, we held training for the scientists and experts to smoothen the Regency Government through the Health Department realizing the socialization and program implementation," revealed UGM Faculty of Medicine, Public Health, and Nursing (FKKMK) Professor.
This collaboration signing in early March was considered a sequential event from awarding the Adhikara Award in the framework of Lustrum XV UGM FKKMK Yogyakarta and the awarding of MURI-Museum Of Indonesian World Record.
Author: Hakam