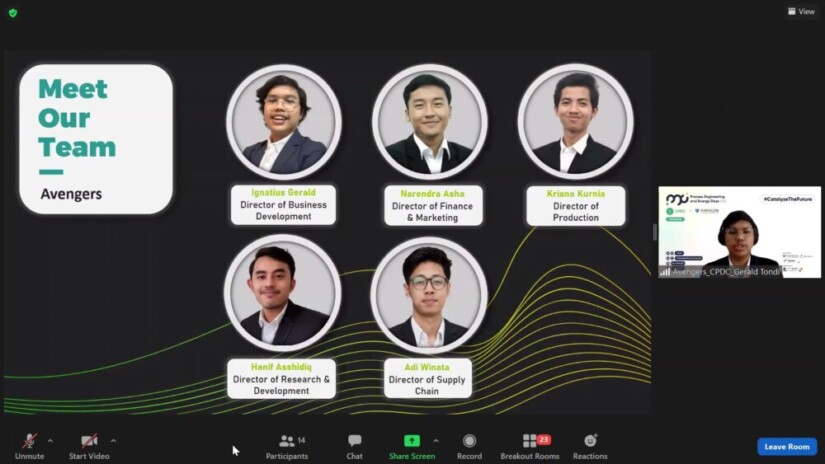 Avengers Team from the UGM Faculty of Chemical consists of Ignatius Gerald Tondi Sinaga, Krisna Kurnia Adhi, Narendra Asha Kusuma Negara, Hanif Asshiddiq Rohmat, dan Adi Winata successfully making UGM proud by winning the 2nd Runner up in the Online International Competition organized by Chemical Engineering Student Association, Faculty of Engineering, Universitas Indonesia during six months. This competition raised a theme entitled "Mitigating Global Crisis in a Sustainable Way."
The first stage of selection was in November 2020 by abstract submission proceeding by the paper submission and "Pitch Deck Video" deadline in January 2021. The competition result of the finalists then was announced last February 2021. The last stage was the competition itself on 12 March 2021.
Nowadays, the most common packaging that is almost used over the world is plastic and Styrofoam. Meanwhile, those are all not decomposable and harms the earth. Therefore, the Avengers team initiated a concept regarding the product Thanos (Eco-Friendly Food Packaging as Styrofoam Alternative) made from palm oil and pineapple stalk waste.
The function is better than Styrofoam, more economical, and the most important thing is it can be easier to be decomposed. Gerald conveyed that there was a new stage of selection this year. It was the video pitch deck creation to explain the product in a quick time. The video must contain the pitch deck's profundity to reach the production line, marketing strategy, and the business model canvas.
"It is because it's online. This condition makes the competition even crucial and challenging. Besides, we can directly examine the prototype in front of the jury. Using limited time and medium, we should convince the jury if the Avengers team's product is the best," Gerald said.
Additionally, he said that this year, they invented a prototype that can nearly point out if this product is developed further, it can resolve the community's problem. Moreover, the permission and strict protocols implementation during pandemic somehow hinder the observation in the laboratory.
"We hope our invention product can increase community awareness regarding the missing out problem that still exists from time to time. We have had the prototype and can be further developed with some consideration aspects such as ergonomic and further in-depth branding. Lastly, we highly hope this product can be mass-distributed soon," concluded Gerald.
Author: Desy