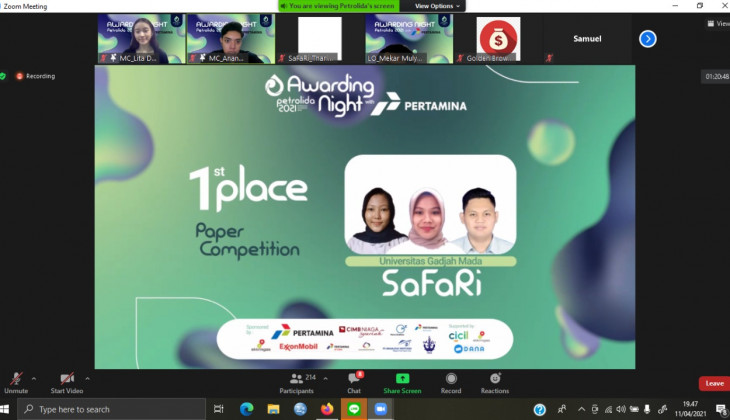 PETROLIDA, an international competition organized by the Society of Petroleum Engineers ITS (Institut Teknologi Sepuluh Nopember), was held again in 2021. Certainly, UGM participated in this competition and had successfully brought home the 1st award in the paper competition category. The students from Chemical Engineering that consisted of Sasa Aulia, Farah Octaviani, and Thariq Arian Khalfani, contributed their efforts for every stage of this competition, starting from the abstract submission to the full paper submission and presentation by ten finalists in March 2021. Meanwhile, the official result for this competition from any field was announced on 11 April 2021 at 19.00.
Sasa explained that it was a very competitive international scale competition because universities from abroad such as Universiti Teknologi Malaysia, became a finalist. Universitas Indonesia, ITB, ITS, and UPNVY were also engaged in the competition. UGM itself has submitted the literacy research papers with the theme of "Achieving Sustainable Development in Oil and Gas Sector through Eco-Friendly Practice Utilizing Innovative and Applicable Innovation".
We wrote a paper about the wastewater treatment techniques produced from the exploration and production processes of petroleum and gas using an integrated system approach of Heat Treatment and filtering. The name of our product is Smart Integrated Futuristic Electro-Pyromesoling System Reservoir," Sasa said on Monday (19/4).
Competing in the middle of the pandemic, according to Sasa, was considered another challenge because the team could not discuss the problem straightforwardly, managed time for studying, engaging in the organization, and competition. Besides, conducting research was also considered a challenge because it required data from different areas.
"This is so challenging. We were often struggling in managing our time. Moreover, it happens together with our mid-term test. However, motivation from friends in this team was effectively meaningful," she said.
Safari Team hoped for other teams to continue their path and encouraged others not to be afraid to start and fail.
"This pandemic is not a reason for us to give up, to be productive, and to gain achievement. There are plenty of opportunities out there for UGM students to express their ideas. Please don't make our time for four years here go in vain. At this young age, take all the benefit from every opportunity offered to be productive, for the sake of this country's advancement," Sasa concluded.
Author: Desy