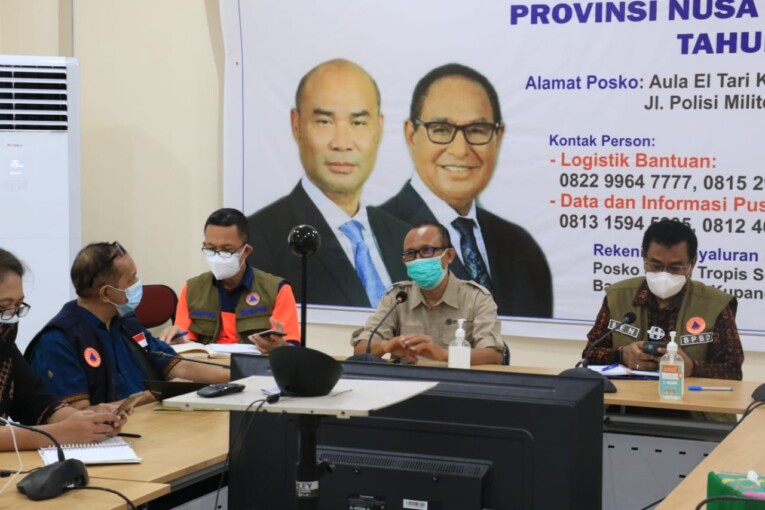 Universitas Gadjah Mada provided humanitarian aid to people affected by the early April flash flood in East Nusa Tenggara (NTT). UGM Director of Community Service Professor Irfan Dwidya Prijambada and team delivered the tropical cyclone disaster assistance personally to the Provincial Secretary Benediktus Polo Maing at the Tropical Cyclone Seroja Emergency Response Post, NTT Province, Thursday (29/4).
"UGM is ready to provide trauma healing to restore psychological conditions and develop an affordable, earthquake-resistant quick response house model," said Irfan.
He added that UGM would continue to assist the people of NTT, especially those who lived on Sabu Island, and dispatch UGM SCS-CEL (Student Community Services – Community Empowerment Learning) students for recovery on the said island in July. Irfan and the UGM team were open to cooperating with universities in NTT to ease the local government and the community in dealing with disaster-related problems. One of the contacted partners was Kupang State Polytechnic to jointly build a model house and carry out trauma healing on May 1.
Benediktus Polo Maing thanked the entire UGM team for paying a visit to the affected locations, such as Maumere, Larantuka, Adonara, and Sabu Raijua. Apart from construction recovery, he sincerely hoped that the SCS-CEL program would bring awareness regarding behavior and early warning in facing disasters. By increasing public understanding of disasters, the community could take post-disaster adjustment measures and design their next steps.
"We really appreciate assistance from UGM. It shows UGM's sincere dedication to the community. Hopefully, people are better prepared when disasters occur. Although we certainly hope there won't be any disaster, it is better to prepare for the worst," said the Secretary.
On this occasion, Dr. Ashar Saputra, a building resilience expert from the Directorate of Community Service, shared his knowledge and experience with Pdt. Merry Kolimon at the GMIT (Timor Evangelical Church) Synod Disaster Response Post. Both are ready to provide training to GMIT congregations and assistance to build strong pastors and churches in the face of disasters.
Author: Agung Nugroho