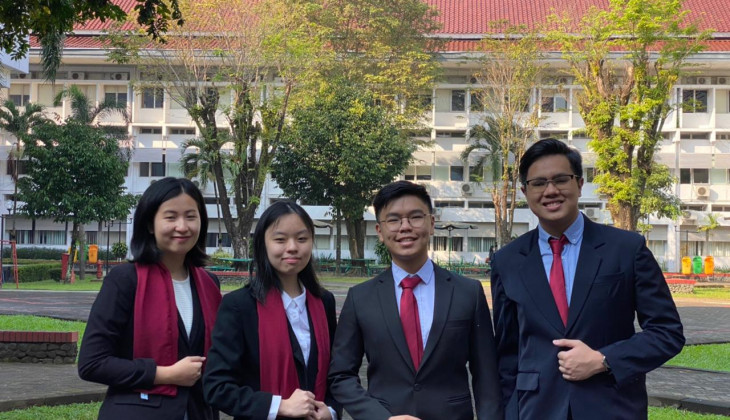 It was a proud day for UGM when its students, for some time, have successfully brought awards home. Veronika Xaveria (IUP Management 2016), Erica Lesmana (Accounting 2017), Alexander Tjhung (IUP Management 2018), and Mathew Ihot Lorenz Sijabat (IUP Economics 2019) from UGM Faculty of Economics and Business has achieved 3rd place winner for 12-hour case international RSM STAR Case Competition held by Rotterdam School of Management (RSM), the Netherlands on 16-23 April. To gain the award, they must pass other competitive participants from several global universities such as Ivey Business School, Copenhagen Business School, Corvinus University Budapest, University of Calgary, Chulalongkorn University, University of Technology Sydney, HEC Montreal, National University of Singapore, University of Waikato, Thammasat University, The Hong Kong University of Science and Technology, Chinese University of Hong Kong Shenzhen, IE Business School Madrid, University of St Gallen, dan Rotterdam School of Management.
In the final stage, the UGM team needed to compete with three other champions from Rotterdam School of Management, The Hong Kong University of Science and Technology, and the University of Calgary. Veronica revealed that each participant should present their ideas and innovations to develop their resilience business with dynamic community behavior. In this case, they should figure out the problem about Coca-Cola European Partners (CCEP) in an agile leap during 12 hours.
"There was a challenge to each participant to present their best and innovative solution to support Coca-Cola's marketing strategy. It aims to increase the consumers' perception of the company's commitment to sustainability and the environment. We must choose a country as our specific target preferences," said Veronica to the reporters on Saturday (1/5).
Meanwhile, in the 24 hours case of Docubird, every team must provide strategy go-to-market on the fresh start-up to increase sales and add-in users in a blink of an eye.
As a final competition requirement, each UGM team member must provide a motivation letter and overview in the case of competition. This competition was divided into four divisions or pools and two stages; preliminary (12 hours) and final (24 hours) for each case. To proceed to the final stage, each team must defeat the other three teams in their division. "In the preliminary stage for 12 hours, the UGM team could defeat the National University of Singapore, University of St Gallen, and HEC Montreal using the Coca-Cola study case," she explained.
Even though the competition was held online due to the pandemic, the team known as The Critical One was still eager to work hard and actively asked for a consultation with their lecturers and alumni who had once participated in RSM STAR Case Competition from 2016-2020.
"Meaningful support from the UGM Faculty of Economics and Business during our preparation has become a foremost motivation to our team to give the best for UGM," she concluded.
Author: Gusti Grehenson.