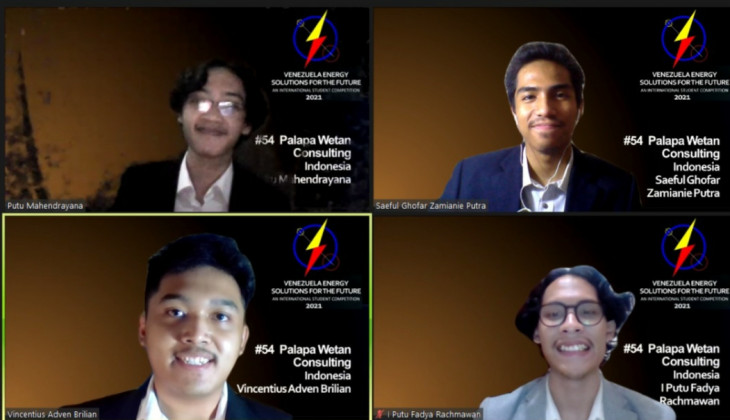 UGM students from various disciplines, Vincentius Adven Brilian (Mechanical Engineering 2019), Saeful Ghofar Zamianie Putra (Geophysics 2019), I Putu Fadya Rachmawan (Instrumentation and Control Engineering Technology 2019), I Putu Mahendrayana (Economics 2019), were crowned third-place winners at the Venezuela Energy Solutions for the Future International Case Study Competition 2021 on May 22. This international competition was held online by the Venezuelan American Petroleum Association (VAPA) and sponsored by CITGO Petroleum Corporation. There were a total of 75 teams from 16 countries that participated in the said competition.
The Palapa Wetan Consulting team, as they referred themselves, was the only team from Indonesia and Asia to qualify for the final. They were also the only non-Venezuelan team that nailed the top three position. With this achievement, Palapa Wetan Consulting received USD 800 and a certificate of appreciation.
"The first and second winners are from Venezuela. We also manage to beat the team from Spain in fourth and Canada in fifth," said Vincentius when interviewed on Tuesday (25/5).
Before selected as semifinalists, each team has to submit their essay to the jury. If they satisfy the required qualifications, they will go to the semifinal round and present a proposal in a 10-minute video containing strategic solutions and a roadmap to solve Venezuela's energy crisis until 2050. The jury will then decide the top six finalists based on these presentation videos. Vincentius explained that his team offered various types of energy that could conclude the crisis along with the issues they addressed. His team also elaborated on which energy types should the Venezuelan government optimize, two of which were oil and gas and renewable energy.
"We propose a solution called The STAR Energy: Sustainability Through the Affordable and Renewable Solution for Venezuela Energy Development. Hopefully, Venezuela can establish its energy security in the future," he explained.
Vincentius then stated that this achievement had motivated his team to partake in and win other international competitions, especially those concerning science and technology. His team's desire and passion for creating energy solutions for Indonesia and the world, he concluded, would always push them to learn more about energy issues and succeed.
Author: Gusti Grehenson