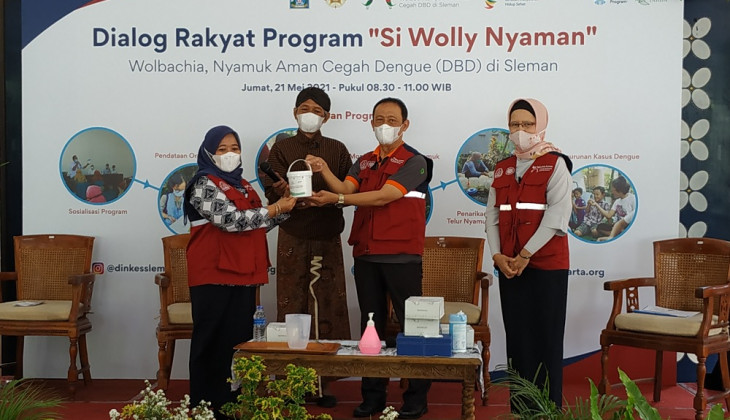 In collaboration with the World Mosquito Program (WMP) Yogyakarta, Universitas Gadjah Mada, and Tahija Foundation, the Sleman government launched a program to reduce dengue hemorrhagic fever (DHF) cases called Si Wolly Nyaman, Friday (21/5). The program works by releasing Wolbachia-carrying Aedes aegypti mosquitoes to all 588 hamlets in the Sleman area from May to November 2021 to combat the spread of the virus.
As stated on the World Mosquito Program website (www.worldmosquitoprogram.org), the Wolbachia bacteria inside the said mosquito are proved to limit viruses like dengue, Zika, Chikungunya, and yellow fever to reproduce. Hence it helps diminish the transmission of the viruses from the mosquito to person or among individuals.
"This program will help reduce cases of local dengue infection in Sleman up to 50 percent. In addition to the program, Sleman residents must also regularly remove mosquito breeding sites and live a clean and healthy lifestyle," said Regent of Sleman Kustini Sri Purnomo.
Project Leader of WMP Yogyakarta Professor Adi Utarini added that Wolbachia-infected mosquitoes provenly reduced 77 percent of dengue cases in Yogyakarta City. It was also proven safe for the environment and humans. The egg release would take place in residential areas, offices, and public facilities across Sleman that would be adjusted according to the level of DHF cases in the respective locations. Within these six months, there would be a replacement of mosquito eggs in the designated areas every two weeks.
"The program consists of three stages, namely the placement of buckets of mosquito eggs, the monitoring of mosquito populations, and the withdrawal of buckets. Hopefully, at the end of the program, DHF cases in Sleman will drop," she explained.
Member of WMP Yogyakarta Riris Andono Ahmad confirmed the safety of Wolbachia-carrying mosquitoes as they could no longer transmit the virus. The independent team consisting of experts formed by two government institutions (Ministry of Education, Culture, Research, and Technology and Agency of Health Research and Development) had also performed a risk analysis, stating that possible risk was safe to be ignored.
In addition, Head of Sleman Health Office Joko Hastaryo advised people to monitor the buckets periodically to eliminate potential loss or damage. They could also directly contact and report to the office should anything happen. Tahija Foundation representative Trihadi Saptoadi expressed his hope that Si Wolly Nyaman would decline dengue infection in Sleman.
Author: Ika