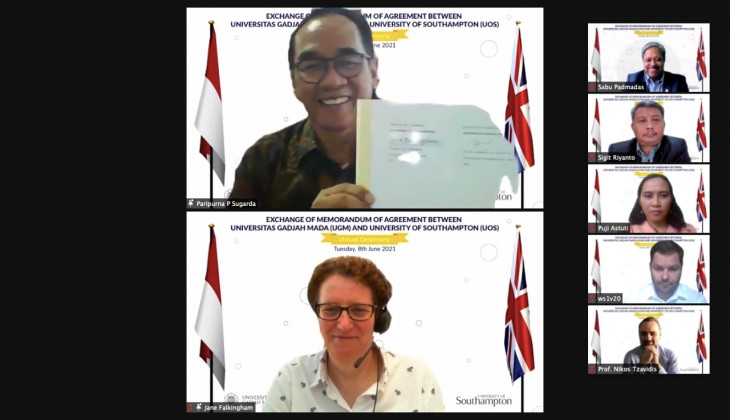 Universitas Gadjah Mada (UGM) and the University of Southampton (UoS) signed a Memorandum of Agreement (MoA) to enhance opportunities for students and academics of both institutions to gain exposure to international learning and life experiences in the UK and Indonesia, Tuesday (8/6). A number of university and faculty leaders from both sides attended the online event to engage in discussion. Vice-Rector for Cooperation and Alumni Professor Paripurna and Dean of Faculty of Social Sciences Professor Jane Falkingham OBE represented UGM and UoS, respectively, as the signees.
"We have been communicating and collaborating for several years. Finally, we made it official through this agreement," said UGM Rector Professor Panut Mulyono.
He added that the MoA signing would strengthen the established relations between the two institutions and open up numerous opportunities for student exchange programs, postgraduate studies, and staff/academics mobility from UGM to UoS and vice versa. Panut encouraged students from the Faculty of Economics and Business, Faculty of Social and Political Sciences, Faculty of Law, Faculty of Mathematics and Natural Sciences, and Faculty of Engineering to capitalize on these valuable opportunities.
"In the near future, we want to see more UoS students coming to UGM to study," said Panut.
UoS President and Vice-Chancellor, Professor Mark E. Smith CBE, hopes this collaboration will increase chances for UK students and academics to learn more about Indonesia and engage in collaborative activities in the future. He said the COVID-19 pandemic showed how strongly connected the world was in the 21st century. He urged students and staff to take full advantage of this connectivity while also understanding the entailing responsibilities and possibilities.
"I am sure this cooperation will produce tangible and beneficial results," said Mark.
Author: Gloria