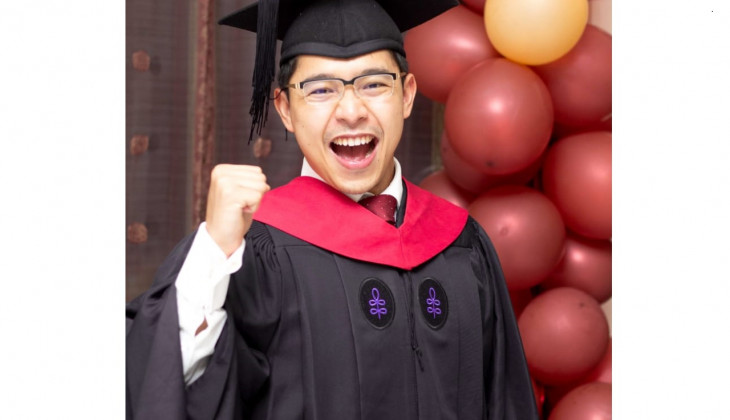 Muhammad Rifky Wicaksono, UGM Faculty of Law lecturer, has just recently attained his LL.M. from Harvard Law School at the age of 28. He graduated with Honors and received Dean's Scholar Prize in Mediation and International Commercial Arbitration. Rifky is the only Indonesian among other Harvard LL.M. graduates this year. Prior to taking a master's at Harvard, Rifky completed the Magister Juris (MJur) program at the University of Oxford with a distinction in 2017 through the Jardine Foundation scholarship, making him the first Indonesian to earn the title.
"Alhamdulillah. I am grateful that I can complete my studies within ten months and graduate in May," he said on Thursday (10/6).
Rifky explained that going through postgraduate studies at Harvard, especially in the middle of a pandemic, was quite challenging. Yogyakarta, a city where he resided, was 11 to 12 hours ahead of Cambridge, Massachusetts, not to mention a load of about 300-400 pages a week reading standard at Harvard and hurdles of completing school online. He had to manage his time effectively and find ways to balance between attending online lectures and fulfilling his role as husband and father.
"Morning lectures are usually at 10 am, meaning 9 pm here in Indonesia. On other occasions, I have to be up early at 4 to attend those 5 pm classes. It is incredibly challenging because I have to deal with time differences that drastically change my work and sleep patterns. I got a degree from Harvard despite never set foot there. I made it from home, here in Sleman, Yogyakarta," he laughed.
He recounted that getting a scholarship for his Harvard degree was one arduous journey. Generally, it was awarded only for those who had never taken master's studies. His outstanding academic achievements, coupled with determination and commitment, helped him come this far. Rifky once represented Indonesia in the most prestigious international moot court competition, The Jessup. He received the Outstanding Student award in 2012 and graduated with a 3.95 GPA from the UGM Faculty of Law in 2014.
Rifky is not immune to failure, though. He revealed that his current achievements were greatly influenced by his national exam failure back in high school. He explained that at that time, he was overly busy preparing for his international debate competition and, in return, incapable of managing his time to study for the exam. Through this, he realized that talent and intelligence alone were not enough to lead individuals to success. Hard work and perseverance were also pivotal.
"It was a turning point in my life. I learned the hard way that success isn't an instant process and doesn't merely rely on talent. We still have to work hard, pray, and fight for it," he said.
Currently, Rifky is preparing for a doctoral program at Oxford that will start in September this year. He wants to conduct further research on the implementation of competition law in the digital economy era and the impact of the digital ecosystem on the competition. Upon completion, he looks forward to reforming competition law in Indonesia.
"Our real enemy is the fear of failing, not the failure itself. Fear holds us back from our dreams, while those big dreams are the ones that stimulate our nation to progress. So, dare to dream, show some persistency to make them happen," he advised young people.
Author: Ika