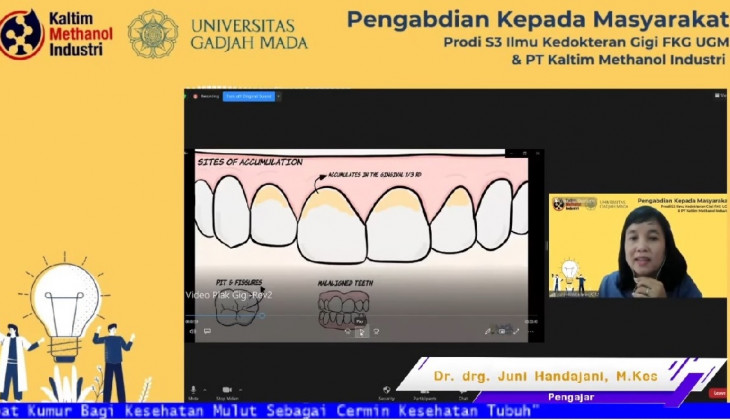 Researchers from the UGM Faculty of Dentistry discovered that two commonly grown plants in Indonesia, stem bark of cashew tree and fresh-picked tea leaves, were proven to help prevent dental plaque formation. According to the Faculty's Vice-Dean and lecturer Juni Handajani, extracts from these two plants can be mixed as mouthwash and toothpaste ingredients.
"Our doctoral students have been exploring various plants in Indonesia that have the potential to prevent plaque," said Juni in a webinar held by the Faculty in collaboration with Kaltim Methanol Industri that talked about mouthwash and toothpaste's role on Saturday (12/6).
Plaque occurs from accumulated microorganisms (mostly are bacteria) on the tooth surfaces that are not removed through correct daily tooth-brushing practices or general oral hygiene.
On research conducted by Harsini, herbal mouthwash researcher, the anacardic acid and gallic acid found in cashew bark can inhibit the growth of S. aureus and A. actinomycetemcomitans. Both types of bacteria are known as the culprits that cause tooth plaque. In addition to its antibacterial properties, cashew bark extract is anti-inflammatory and can accelerate the healing of tooth extraction wounds and canker sores. It has the potential to be incorporated into mouthwash ingredients.
Similarly, Juni found through her research that catechins (epigallocatechin gallate) in unprocessed tea leaf extract can inhibit the growth of one of the plaque bacteria. According to her, toothpaste with the said extract can heal gingivitis faster than the non-extract ones if used for 21 consecutive days.
Furthermore, researchers at the Faculty are currently examining the potential of mangosteen peel for plaque prevention. They aim to reveal whether the fruit has antibacterial/antibiofilm properties.
Author: Aji Maulana