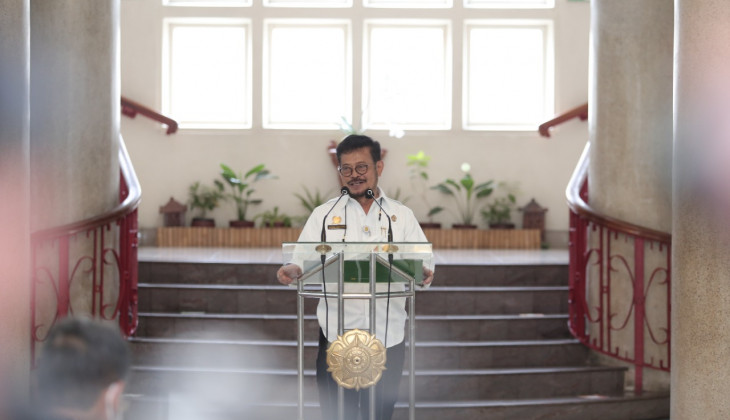 Minister of Agriculture Syahrul Yasin Limpo visited UGM on Wednesday (16/6). During the visit, Minister Syahrul encouraged UGM to intensify research and development of agricultural technology to help develop the sector to be advanced and independent.
"We hope to increase research on agricultural science and technology with UGM," said Syahrul.
He revealed that agriculture is proven to be among the most reliable sectors amid the current pandemic. Contrasted to others that showed a significant decline, the agricultural sector remained strong and resilient during this challenging period. Its GDP grew positively by 16.24% in the second quarter of 2020 (q-to-q) and continued to grow 2.15% and 2.59% in Q3 and Q4, respectively.
"Agriculture becomes the main support. Other sectors are declining, but ours is going up," he added.
Despite the optimistic sign, he warned that the current positive growth didn't guarantee any similar feature in the future. Many problems remained unresolved and required proper solutions. Technological innovations in agriculture would be the key to progress the nation and contribute significantly to the sector's development in the coming years. He encouraged all parties to show some commitment in formulating strategies to strengthen agricultural production and distribution.
"We may as well go down if we maintain it poorly," he said.
Universitas Gadjah Mada and Ministry of Agriculture Sign Memorandum of Understanding and Cooperative Agreements
In addition to ministerial speech, the Wednesday visitation comprised the signings of a Memorandum of Understanding and several cooperative agreements between the two institutions. The signees for the MoU were Professor Panut Mulyono (UGM Rector) and Momon Rusmono (Secretary-General of the Ministry of Agriculture). The signing of the cooperative agreements was represented by the Director of Partnerships, Alumni, and Global Initiatives (UGM), Director-General of Crops, Director-General of Livestock and Animal Health, Director-General of Plantations, Director-General of Agricultural Infrastructure, Head of Research and Development, and Head of Food Security (Ministry of Agriculture). On this occasion, the Ministry also handed over several aids to UGM, including three tractors, two transplanters, 40 dairy goats, hydroponic screen houses, and a coconut nursery.
Professor Panut appreciated the assistance given by the Ministry, which later would be handed to the Faculty of Agriculture, the Faculty of Agricultural Technology, and the Faculty of Animal Science. UGM would support the Ministry's programs that aimed to produce functional products. According to him, they were crucial and would impact the revival of the agricultural manufacturing industry.
"On behalf of Universitas Gadjah Mada, I thank the Ministry of Agriculture for the assistance. Hopefully, what we are doing today will bring progress to the nation," said Panut.
Author: Gloria
Photo: Firsto