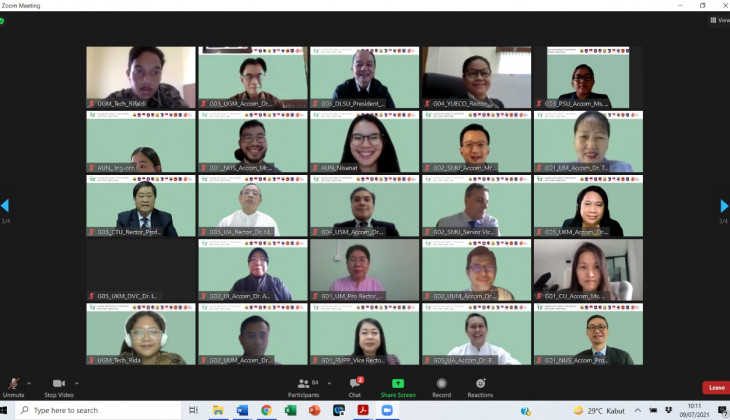 Presidents, rectors, vice-chancellors, and representatives of 29 AUN member universities from 10 ASEAN countries attended the 12th ASEAN University Network (AUN) Rectors' Meeting hosted by Universitas Gadjah Mada online, Friday (9/7). The meeting's agenda comprised the AUN Progress Report presentation and a workshop entitled Revisiting Our University Network. The meeting was initially planned for 2020 but later postponed to 2021 due to the COVID-19 pandemic.
"The AUN Rectors' Meeting was rescheduled to 2021 in the hope that an in-person meeting could take place as usual. Due to the unforeseeable nature of the pandemic, we had to hold the meeting online eventually," said UGM Rector Professor Panut Mulyono in his remarks.
Panut recounted that Universitas Gadjah Mada was still imposing work and learning from home following the soaring COVID-19 infections and crisis in Indonesia. Despite UGM being ready to carry out blended learning, the university had decided to postpone the plan and remain engaged in an online setting, given the current surge.
"The pandemic helps us better understand how national borders are incapable of curbing the spread of disease. A single country cannot handle a pandemic exclusively as disease knows no boundaries," said Panut.
The pandemic has once again denoted the inevitability of collaboration between universities across the globe. Online circumstances have increased opportunities for intensive and extensive global interactions without the need to undertake physical mobility. Cooperation is no longer an option yet a must, and technology connects one to another beyond geographic boundaries.
"There is still room for improvement, and that is why we should continue to work together. Through AUN, let's look upon the pandemic as an opportunity to create innovation in education," said the Rector.
AUN Executive Director Choltis Dhirathiti added that this meeting aimed to discuss AUN's forth-coming strategies and direction. Young people shone and inspired others through their contributions to dealing with the prolonged pandemic. Educators stood behind, letting them free to explore. These efforts were a necessary weapon, especially on a regional scale, to fight against today's challenges that no longer recognized borders, social classes, or races.
"As one region, we will rely on these attempts to take ASEAN to the next level," said Choltis.
Author: Gloria