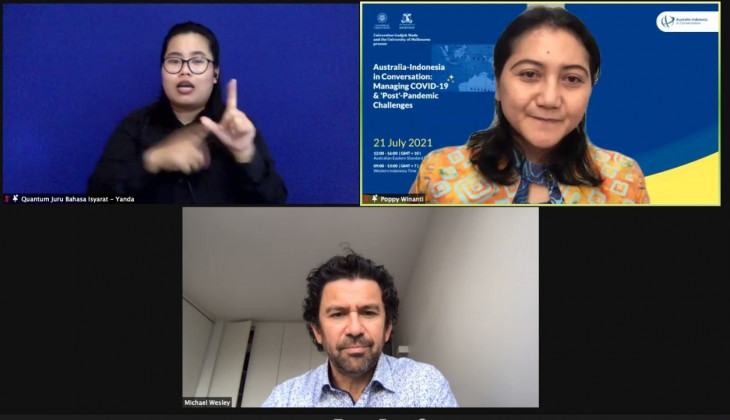 UGM Faculty of Social and Political Sciences and the University of Melbourne (UoM) hosted a two half-day mini-conference entitled Australia-Indonesia in Conversation: Managing COVID-19 and 'Post'-Pandemic Challenges.
The virtual event took place on July 21-22 and brought together senior academics from the two universities and diplomats and community workers from both countries. Throughout the four sequential panels, the involved participants shared their knowledge and experiences in dealing with the crises resulting from the pandemic besides enhancing bilateral partnerships between the two.
Deputy Ambassador of Australia to Indonesia Stephen Scott said the Australian government strongly supported conferences like the one held by UGM and UoM. Given the strong, harmonious ties between Australia and Indonesia, such collaboration and dialogues were necessary and could bring about enlightenment to the measures taken by both ends in dealing with challenges during and post the pandemic.
"In difficult times, we should think about how we can address the problem immediately and generate new ideas (to solve the problem)," said the Deputy Ambassador.
Similarly, UGM Vice-Rector for Research and Community Service Ika Dewi Ana agreed that working together was the key to survive the pandemic. She hopes the partnerships will remain and the two universities can cope with predicaments in the future.
"We have to remain enthusiastic not only for today but also for tomorrow when the pandemic is over," said Ika.
Author: Aji