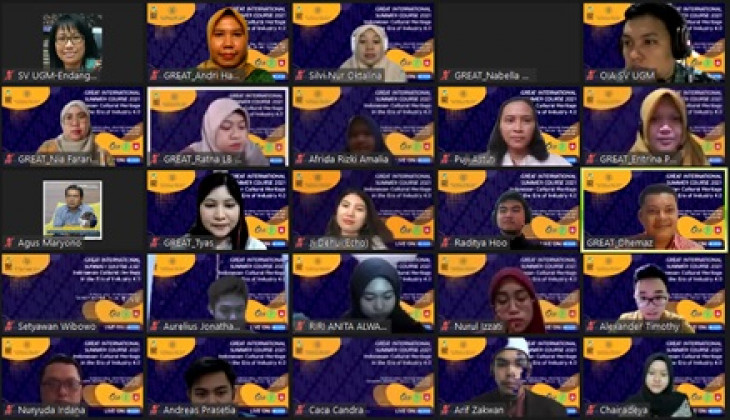 Unlike the 2019 edition, the 2nd GREAT International Summer Course is currently taking place virtually due to the ongoing pandemic. As the host of the program, UGM Vocational College provides two types of online learning, namely through live online lectures and e-learning materials available at the university's platform, UGM eLok. On this year's occasion, the program admitted 109 participants from Indonesia and abroad, such as China, Malaysia, Taiwan, India, Italy, and Vietnam, and would last from July 13 to August 8.
Taking the theme Indonesian Cultural Heritage in Industry 4.0, the program provides an opportunity for the young generation of diverse cultures to engage in cultural preservation using the technology and creativity of modern humans. Apart from learning and extending the network, participants will also contribute to safeguarding and promoting their respective cultures.
"Due to the COVID-19 pandemic, the course is held online through synchronous (Zoom) and asynchronous (UGM eLok) learning means," said Agus Maryono, Dean of the Vocational College, Tuesday (13/13).
In this year's course, UGM invited 24 speakers from various universities such as Chengdu Textile College, Kolej Universiti Islam Melaka, Arizona State University, the University of Denver, the University of Otago, the Università della Svizzera italiana, Shivamanohari School of Performing Arts, Technical University of Vienna, Chiang Mai University, Universiti Putra Malaysia, Sun Yat-Sen University, National University of Singapore, National University of Civil Engineering Hanoi, and the Republic of Indonesia Defense University. Several companies and agencies also participated in the program, namely Garuda Indonesia, Sidomuncul, Culture Office of Yogyakarta, Merapi Farma Herbal, and Eco.J Ecoprint Jogja.
"We thank the UGM Office of International Affairs of the Directorate of Partnership, Alumni, and Global Initiatives and partner universities, namely Chengdu Textile College and Kolej Universiti Islam Melaka, for their support of the program," said Head of the program Andri Handayani.
Author: Agung Nugroho