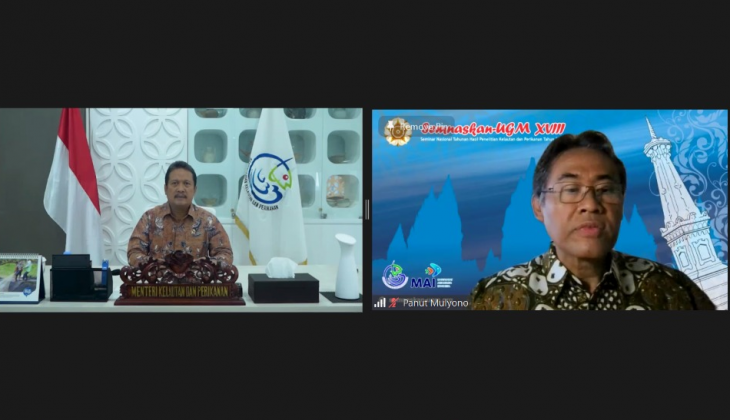 Minister of Marine Affairs and Fisheries Sakti Wahyu Trenggono encouraged academics to develop more research and technological innovation in the marine and fisheries sector.
Delivering remarks at the annual National Seminar on Fisheries and Marine Research Results (Semnaskan) run by the UGM Department of Fisheries, Minister Trenggono said the marine and fisheries sector was among several sectors capable of surviving and overcoming the 1998 monetary crisis and the COVID-19 pandemic. It had great resource potential, and its sub-sectors, namely capture fisheries and aquaculture, were the mainstay of the economy. He hopes research, innovation, and technology will optimize the sector's productivity and quality and help Indonesia recover.
"Research findings are an essential element within technological discovery and innovation. We seek academics' contribution to advancing Indonesia's marine and fisheries technology," said Trenggono on Monday (26/7).
UGM Rector Professor Panut Mulyono added that the advancement of the marine and fisheries sector centered on technological advances, efficiency, and sustainability. He advised the resources to focus on maintaining the quality, diversity, and availability of food for current and future generations. According to him, the pandemic has brought about new world order and a global health crisis. Thus, the availability of nutritious food, including those of fishery products, is necessary to create a healthy community.
"Supported by Indonesia's vast waters, the capture fisheries and aquaculture sector is expected to be the main driver of the national economy and contribute to the global food supply. The synergy between research and development is crucial to create sustainable marine and fisheries," said Panut.
Running for the 18th time, Head of the Committee Indah Istiqomah said that the seminar's objective remained solid. It was to gather academics and researchers in the said field to share experiences and findings and expand their network. The 2021 event admitted 150 participants from across Indonesia and invited distinguished speakers from the Indonesian Aquaculture Society Professor Rohmin Dahuri and Fisheries expert and lecturer Bambang Triyatmo.
Author: Ika