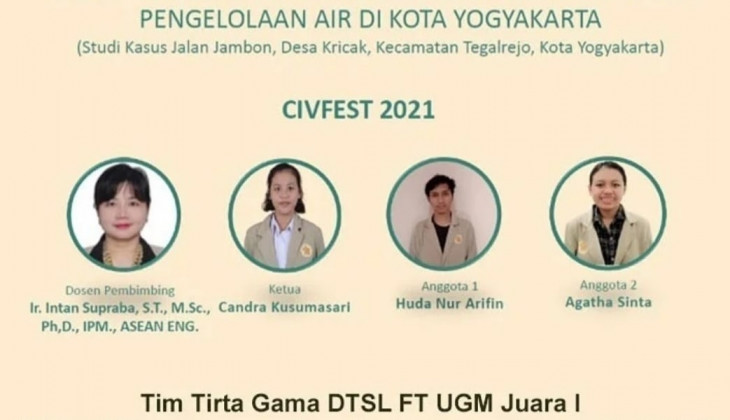 The Tirta Gama team consisting of three Civil Engineering students, namely Candra Kusumasari, Huda Nur Arifin, and Agatha Sinta Nurlita, won first prize in the Paper category at the Civil Engineering Festival 2021 held by the Civil Student Association of Jakarta State Polytechnic on 11 April-6 August.
The paper contest challenged students to bring forward ideas on environmentally sound urban development, whereas other categories focused on concrete and bridge construction innovations. The top six finalists comprised teams from Universitas Gadjah Mada (2 teams), Brawijaya University, Maranatha Christian University, State University of Malang, and Diponegoro University.
Supervised by UGM lecturer Intan Supraba, Tirta Gama proposed urban circular water to optimize water treatment in Yogyakarta City. Their paper discussed combined dammar gum-porous asphalt, communal water treatment system, and constructed wetlands with the Blue-Green Infrastructure approach. Team leader Candra revealed the pandemic challenged the team big time as they needed to brainstorm ideas, discuss, and carry out the final presentation in an online environment.
"The other finalists have very innovative and good ideas as well. We only focused on giving our best to ace the presentation and answer the judges' questions. We are delighted and grateful to win the contest. Hopefully, we can continue to excel and improve our reasoning skills," said Candra on Sunday (8/8).
Author: Desy