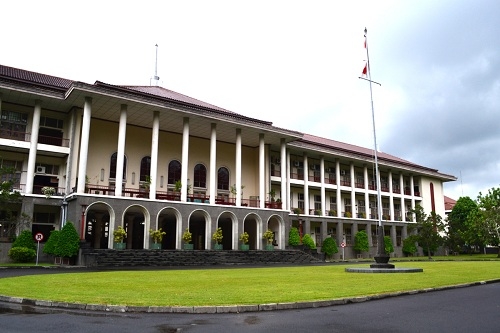 UGM students won four medals at the International Mathematics Competition for University Students (IMC) hosted by the American University in Bulgaria online on 2-7 August. The four medalists are as follows: Naelufa Syifna Wifaqotul Muna (Mathematics) and Waffiq Maaroja (Computer Science) for the silver medals, Muh Fadlan (Mathematics) for the bronze medal, and Fani Haerul Anam Rofi'i (Mathematics) for the Honorable Mention.
This year, the annual math olympiad was attended by 590 participants from various world universities. For two consecutive days, participants had to find solutions to four problems in the fields of Algebra, Analysis (Real and Complex), Geometry, and Combinatorics submitted by the committee within four hours. Usually, the pre-pandemic olympiad rules require each participant to answer five problems.
"In general, the materials (asked at IMC) were more extensive than the ones at the national level, so it would be difficult if we didn't enhance our reference materials. Furthermore, the analysis of the answers took more time than those needed at the national competition," said silver medalist Waffiq when contacted on Monday (9/8).
Waffiq revealed the 2021 IMC was his first participation in the competition. He competed with dozens of students from various universities in Indonesia before advancing to the international battlefield. He hopes this achievement can inspire and motivate other students to excel and succeed.
"I didn't really set a lofty goal. But, IMC is probably my last competition in math, so I hope I get a medal. Thank God, I did," said Waffiq.
Head of Sub-Directorate for Student Creativity Suherman congratulated all UGM representatives for their accomplishments that had made UGM and Indonesia proud. He revealed that IMC representatives from Indonesia were medal winners at the National Mathematics and Natural Sciences Competition (KNMIPA) held by the National Achievement Center (Puspresnas) of the Ministry of Education, Culture, Research, and Technology.
"Advancing to the international level is indeed something to be grateful for. Hopefully, UGM students who receive medals in math at this year's KNMIPA can succeed at the upcoming IMC," said Suherman.
Author: Ika