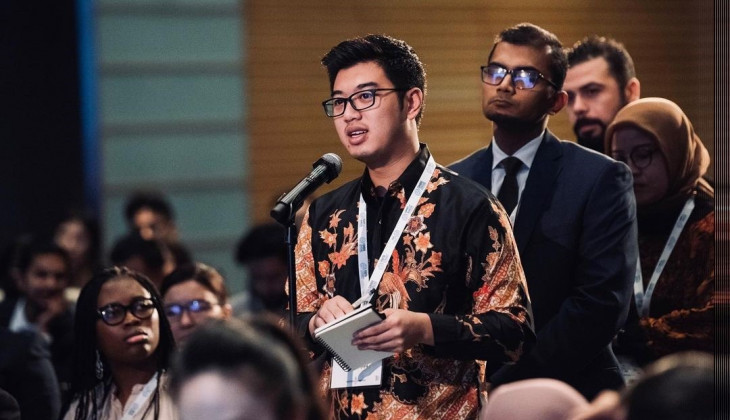 Angelo Abil Wijaya, a UGM International Relations graduate, won the World Bank Group Youth Summit 2021 Case Challenge Competition held virtually 9-10 June. Of more than 5,000 registrants, Angelo was among 200 selected young professionals who presented their solutions before global audiences. He represented the East Asia and Pacific region on the said occasion.
The competition strives to bring forth sustainable ideas and boost countries' collective efforts to bounce back from the COVID-19 crisis. Angelo and his team assessed the coffee industry's sustainability practices under the World Bank Group's environmental and social sustainability framework.
"There are many aspects that business people need to pay attention to when they are about to improve their sustainability practices. The list ranges from reflecting whether their businesses harm the environment, the surrounding communities, especially the indigenous ones, to whether they have given proper rights to the workers," said Angelo, Wednesday (11/8).
Encouraging the world to build back better, he continued, the summit showcased how optimistic the youths are to restore the world following the pandemic. The emphasis is not only on economic recovery but also on other substantial elements. Young people, as citizens of the world, play a central role that brings about fruitful initiatives.
"I am delighted to see the optimism of young people from all around the world to participate in the post-COVID-19 recovery efforts, both for humans and the environment," he added.
Through this event, Angelo had the opportunity to convey his ideas to the broader community through various channels of the World Bank Group apart from presenting those to a jury of sustainability experts and practitioners with years of experience working with the World Bank Group and related industries.
"For me, this is a valuable learning opportunity. I can exchange ideas with youths of diverse backgrounds and countries of origin. Hopefully, there will be more Indonesian youths who can take part in voicing their aspirations, especially at the international level. Our voices (Indonesians) are crucial to support the diversity of voices at the global level," he said.
Author: Hempri