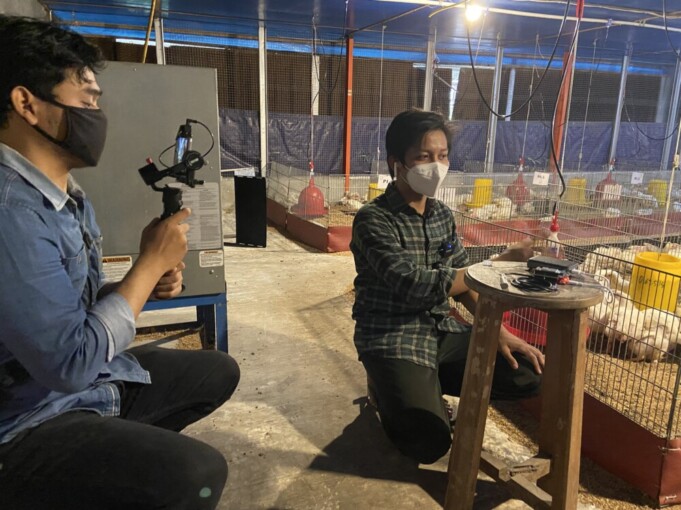 Animal Science lecturer Galuh Adi Insani, in collaboration with several parties, develops an IoT-based broiler farm monitoring and management system called BroilerX. This technology will help put broiler farms at ease by enabling farmers to regularly keep track of their chickens and immediately take action when an anomaly occurs. Aside from observing chicken performance, BroilerX can also record the temperature, humidity, ammonia levels, CO2 levels of the closed house and report these in real-time.
"This system was created and developed as an effort to complement the sensors and equipment that regulate the closed house's microenvironment," said Galuh, who also leads the project's Research and Development team, Thursday (5/8).
He continued, broiler chickens in Indonesia were susceptible to heat stress, which affected the chickens' performance and comfort. With BroilerX, farmers will get notifications on their mobile or desktop in the event of a performance drop and an unfavorable environment so that they can rescue or mend the situation right away. It equips farmers with data about the general condition or changes occurring in the closed house that usually are not recorded with mere sensor installation.
"It can detect environmental oddities and will next be supported with automation or other compatible systems in line with the increase in the amount of data recorded and provide insight," explained Galuh.
CEO of BroilerX Jati Pikukuh added air quality monitoring was necessary to maintain employee well-being, minimize disease rates, and increase productivity. With this product, the cool temperature at the front part of the house can be evenly distributed to the back. According to him, BroilerX is much more affordable than other foreign-made tools of similar benefits in the market that cost around IDR 28 million. Though cheaper, it is made of good quality components and easy to use. Jati added Canada and Singapore were eyeing up this product.
"Many farmers are not aware of the uneven distribution of the temperature in the house. Taking advantage of the IoT, now we can monitor it online. It is useful, especially when we live in Indonesia, where temperature and humidity are high. Farmers can try the system on saas.broilerx.com," said Jati.
Engineer of Karya Merapi Teknologi Yutiman said the Long Range technology allowed BroilerX to transmit data up to 15 km without needing an internet connection, helping farmers in rural areas to make use of the advancement. The IoT has become a necessity nowadays. It brings about smart farming and technological advances in the livestock industry. In addition, Dean of the UGM Faculty of Animal Science Professor Ali Agus appreciated the BroilerX team for their efforts in developing a smart farming system for broilers reared in the closed house. It will surely ease farmers to do their routines.
"BroilerX enables users to become truly modern breeders who utilize technology to control their farms remotely," said Professor.
Author: Agung Nugroho