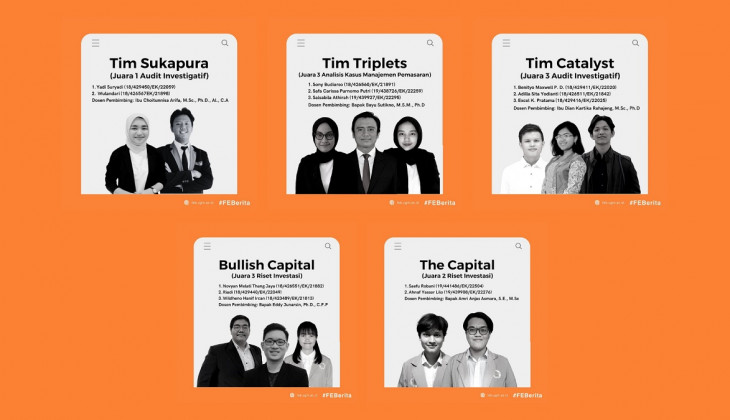 Five teams from the UGM Faculty of Economics and Business won the 2021 National Student Competition in Business, Management, and Finance (KBMK) held by the Ministry of Education, Culture, Research, and Technology on September 13-15, 2021.
The competition has eight major categories and one special category. It aims to bring forth brilliant innovations from young people to help eradicate poverty, empower affordable and clean ecosystems, and gear up for the upcoming post-COVID era. Serving not only as a platform to evaluate students' academic ability, critical thinking, and insights, the contest also solidifies the partnerships among academics, businesses, and the government. A total of 1,679 students from all over the country, which split into 454 teams in 8 categories, participated in the contest.
The five UGM winners are as follows:
Sukapura (Yadi Suryadi and Wulandari) - 1st place winner of the Investigative Audit category

Catalyst (Benityo Maxwell, Adilla Sita Yodianti, and Excel K. Pratama) - 3rd place winner of the Investigative Audit category

Triplets (Sony Budiarso, Safa Carissa Punomo Putri, and Salsabila Athirah) - 3rd place winner of the Marketing Management Case Analysis category

The Capital (Saefu Robani and Ahnaf Yassar Lilo) - Runner-up in the Investment Research category

Bullish Capital (Novyan Melati Thang Jaya, Riandi, and Wildheno Hanif) - 3rd place winner of the Investment Research category
Head of the UGM Business Laboratory Muhammad Firdaus Ar Ridho said the contingent took part in training and guidance sessions prior to the competition with several lecturers, such as Choirunnisa Arifa, Dian Kartika Rahajeng (Investigative Audit), Bayu Sutikno (Marketing Management Cases), Amri Anjas Asmara, and Eddy Junarsin (Investment Research).
"Preparation for this competition took three months, with candidate selection starting on June 17 and the KBMK grand final on September 15. This year, we managed to record the most medals (5 medals) compared to last year (2 medals)," he said, Monday (27/9).
Author: Khansa