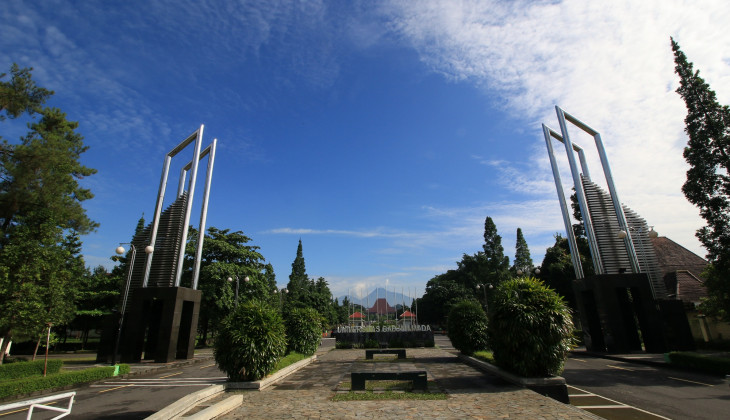 Universitas Gadjah Mada retains its standing as the best university in Indonesia in the latest Moscow International University Ranking (MosIUR) 2021. UGM topped the Indonesian university table for a second consecutive year, competing with other renowned universities, such as Bandung Institute of Technology, University of Indonesia, Airlangga University, Universitas Padjadjaran, IPB University, and Sepuluh Nopember Institute of Technology. Globally, UGM was ranked in the top 601-650 out of more than 2000 universities worldwide.
Moscow International University Ranking "The Three University Missions" was founded by the Russian Union of Rectors. The Russian-based university ranking assesses universities based on three key missions, namely education (45%), scientific research (25%), and the relation between the university and the local community (30%).
"We are grateful for this. The continuous improvement of UGM quality has yielded results and has been proven by external assessments. With better quality, it is hoped that the benefits and contributions we give to the community, nation, and state will be greater," said UGM Rector Panut Mulyono, Monday (28/9).
The education assessment includes four indicators, namely the number of student achievements in international competitions, the share of international students, the ratio of the university's budget to students, and the ratio of students to academic staff. As a result of UGM's assistance and support to students in overseas activities, there has been an increase in the number of student research presentations and participation in prestigious competitions.
"The funds that we budget for students are getting bigger in an effort to produce graduates who are more qualified and relevant to the needs of the times. A smaller student-to-staff ratio indicates better student service. We also encourage students to take an active part in international forums and contests. Many of our students are thriving, thanks to the guidance of student activity coaches in coordination with the UGM Directorate of Student Affairs," explained Panut.
Research-wise, MosIUR measures the university's scientific achievements and awards, the number of citations to scientific publications at the national and global levels, and staff involvement in research and development. According to Panut, various programs and incentives were initiated to boost lecturers and students to conduct quality research that meets the requirements for publication in reputable journals.
"Hopefully, more of our high-quality and state-of-the-art publications are getting cited by researchers at home and abroad. We are also trying to produce downstream products resulting from our research to drive the national economy," he said.
The university-community relations aspect takes into account the university's contribution to MOOCs, share in national publications, web presence and popularity, followers on social media, alumni impact on society, website reach, and transparency of information. UGM has long made knowledge channels accessible to the general public through its official website, print and electronic media, and social media.
"UGM continues to improve its ways to share knowledge and information. We also collaborate with print and online media to publish our research results," he said.
Despite topping the list, Panut emphasized that UGM will continue to improve and evaluate itself from time to time. Each release by the international ratings will be reviewed to spot and rectify the flaws and enhance the plus points. Thus, UGM has a better chance to retain its national position and climb up the global rankings every year.
"Driven by our motto, ginong pratidina (rough translation: to improve each day), we aim to improve our overall quality to benefit and contribute to society. The published standings by various institutions show the comparison of UGM's relative ranking with other world universities," he concluded.
Author: Gusti Grehenson