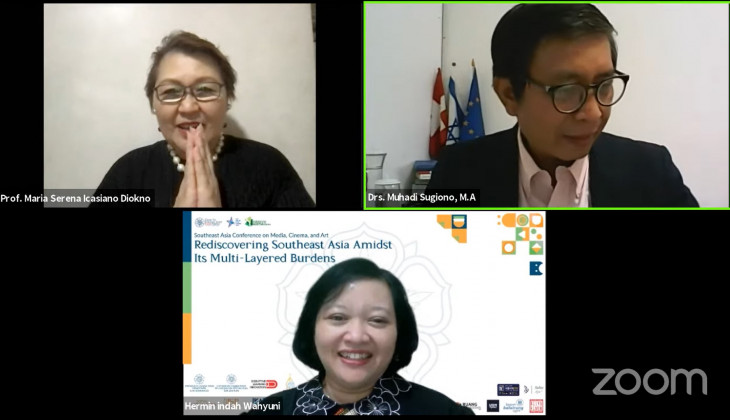 UGM Center for Southeast Asian Social Studies (CESSAS) hosted the Southeast Asia Conference on Media, Cinema, and Art (SEA-MCA) on 4-5 October 2021. Taking the theme Rediscovering Southeast Asia Amidst its Multi-layered Burdens, this conference aims to facilitate researchers across Southeast Asia to discuss various ongoing issues in the region.
"This conference is expected to open people's minds about Southeast Asia's wealth in social sciences and become a collaboration platform for the rediscovery of Southeast Asian studies," said CESSAS Head Professor Hermin Indah Wahyuni.
The conference theme, she continued, emerged from CESSAS researchers' discussion regarding appropriate efforts to respond to recent developments in Southeast Asia, a region with rich cultural diversity and a complex socio-political landscape, especially after the COVID-19 pandemic.
UGM Vice-Rector for Research and Community Service Dr. Ika Dewi Ana said that the 2021 SEA-MCA was a special conference for its exploration of Southeast Asian studies through media, cinema, and art perspectives.
"We want to learn from each other, how to deal with these dynamics from within," said Ika.
Throughout the two-day occasion, participants from five countries presented their thoughts and findings in a total of 79 papers. Various sub-themes were also discussed, such as Misinformation, Disinformation, and Info-demic, Contesting Identity in Southeast Asian Cinema, and Art, Democracy and Human Rights.
The first Panel session raised issues of freedom, security, and responsibility for journalism in Southeast Asia. Journalism and the media are deemed necessary to take a big responsibility in the public health crisis through communication and information construction. However, it may not go as well as planned due to certain external and internal factors.
Senior journalist and keynote speaker Evi Mariani Sofian opined the democratization promised by digital disruption came with a burden. Money from digital advertising forces media outlets to turn into market-driven newsrooms and thereby sidelining the public.
"Press organizations must work together to restore public trust and find business models that can ensure their loyalty to the public," she said.
Author: Gloria