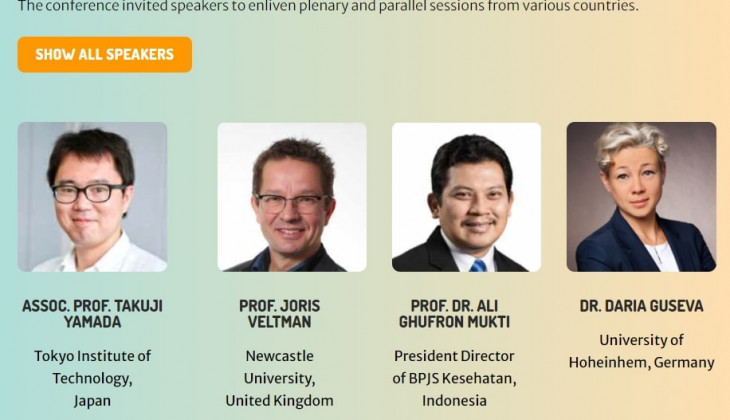 Universitas Gadjah Mada concluded the 4th International Conference on Bioinformatics, Biotechnology, and Biomedical Engineering (BioMIC) on 7 October 2021. The conference was held online and took the theme Artificial Intelligence, Big Data, and Precision Healthcare: A Vision of the Future.
"The purpose of holding this conference is to provide an ideal academic platform for researchers to present their latest findings and explain technologies and directions in the fields of bioinformatics, biotechnology, and biomedical engineering," said Committee Chair Gunadi.
This year, BioMIC 2021 received more than 100 papers from participants from 13 countries, including the Philippines, Japan, Saudi Arabia, Germany, Italy, and the United States. The conference was divided into five symposia, namely Big Data for Public Health Policy, Bioinformatics and Data Mining, Biomedical Sciences and Engineering, Biomolecular and Biotechnology, and Drug Development and Nutraceutical.
"The accepted and presented papers will be submitted to the BIO Web of Conferences, and the selected ones to several Scopus indexed journals such as the ASEAN Journal on Science and Technology for Development," he explained.
A number of speakers from various countries gave their presentations at plenary and parallel sessions, including Assoc. Prof. Takuji Yamada of the Tokyo Institute of Technology Japan, Prof. Joris Veltman of Newcastle University UK, Dr. Daria Guseva of the University of Hohenheim Germany, and Prof. Ali Ghufron Mukti, the President Director of BPJS Kesehatan (Healthcare and Social Security Agency).
UGM Vice-Rector for Research and Community Service Dr. Ika Dewi Ana said UGM sought to open up interdisciplinary boundaries and encourage collaboration in overcoming various problems in society. The conference, according to her, has a strategic role in responding to various crucial global issues through bioinformatics, biotechnology, and biomedical perspectives.
"We have big challenges related to global health issues, such as lack of access to health services. UGM is proud to take the lead in facilitating interdisciplinary research and its dissemination," said Ika.
Author: Gloria