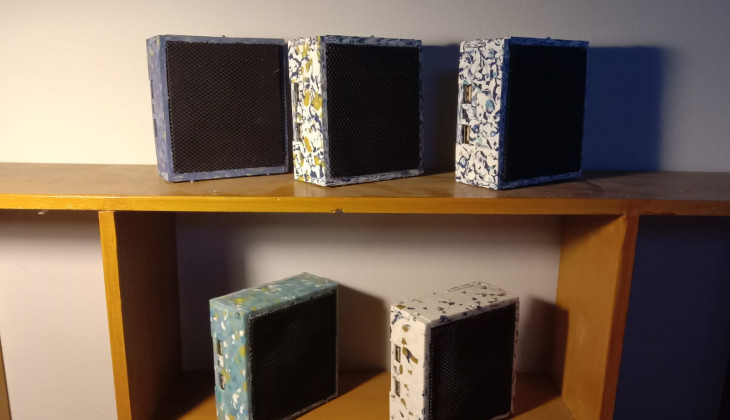 Students from different disciplines teamed up to develop a dual-function wireless speaker and power bank called Saura. It is made from recycled HDPE plastic with a class IV compressive strength of sengon wood (285 kg/cm2) and tensile strength equivalent to teak wood.
The team consisting of Hafifah Putri Varadhias (Management), Amuirul Fauzan Ibrahim (Mechanical Engineering), Rifki Kurniawan (Mathematics), Mukhsin Al Fikri Lubis (Electrical Engineering), and Syafaat Mahrus Ali (Electrical Engineering) proposes this product to compete in the upcoming National Student Scientific Week (PIMNAS).
Team leader Hafifah said the team wanted to produce an affordable, environmentally friendly product that functions as both speaker and power bank. The marble-like design is made like no other, and Saura has up to 12 hours of playtime backed by a 7500 mAh capacity.
"It is multifunctional as Saura combines two features in one product, namely a Bluetooth speaker and a power bank," said Hafifah, Wednesday (13/10).
The team hopes that this product has a social impact, one of which is to give people more choices for unique and environmentally friendly products and help provide alternative solutions to the problem of plastic waste.
Author: Ika