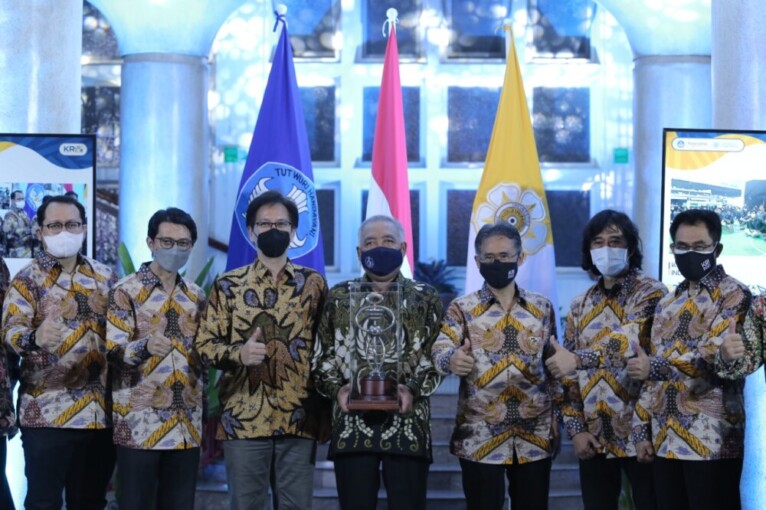 The 2021 Indonesian Robot Contest (KRI) has concluded on 16 October with Sepuluh Nopember Institute of Technology crowned as the overall winner. This year, Universitas Gadjah Mada hosted the hybrid event both for the regional and national rounds, with the contest mainly taking part at the University's very own Grha Sabha Pramana.
Acting Head of the National Achievement Center Asep Sukmayadi expressed his joy at the success of the contest amid the pandemic. This event, he continued, was expected to provide countless opportunities and benefits to students in developing their interests and talents, especially in the field of robotics.
"Hopefully, students can gain many benefits from this robot contest. The National Achievement Center is committed to guaranteeing a learning career and a professional career," said Asep when giving closing remarks at the UGM Senate Hall, Saturday night (16/10).
UGM Rector Professor Panut Mulyono felt grateful that UGM was given the opportunity and trust to host the Indonesian Robot Contest this year. He hopes the event can help bring forth innovations to advance the nation.
"Congratulations to the winners! This competition helps students to learn together to strategize, innovate, and interact," said the Professor.
The Indonesian Robot Contest is an annual robotics design and engineering competition held by the National Achievement Center of the Ministry of Education, Culture, Research, and Technology. This year marks the 19th time the contest has been held since its commencement in 2003.
Six divisions of the 2021 contest include the Indonesian ABU Robot Contest, Indonesian Search and Rescue Robot Contest, Indonesian Thematic Robot Contest, Indonesian Dance Robot Contest, Indonesian Wheeled Football Robot Contest, and Indonesian Humanoid Football Robot Contest. A total of 138 teams qualified for the national round.
On this occasion, UGM bagged three awards, namely the Consolation Prize Winner (Dance Contest), the Best Strategy (Humanoid Football Contest), and the Third Place Winner (Dribbling Category).
Author: Ika
Photo: Dhafa