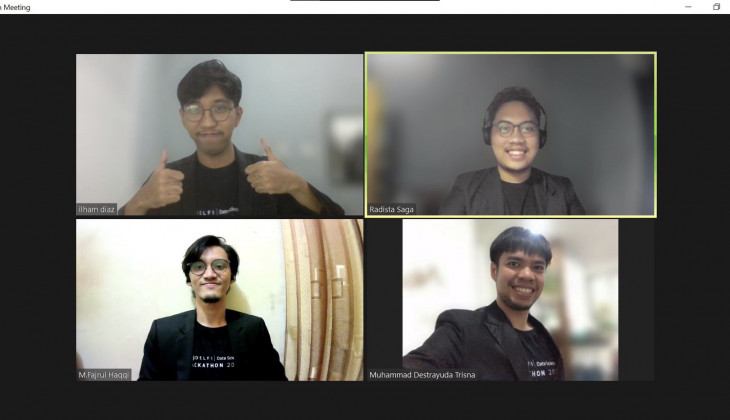 The Hackuna Matata consisting of Radista Saga (Geological Engineering), Ilham Diaz (Geophysics), Muhamad Fajrul Haqqi (Geophysics), and Drestayuda Trisna (Pertamina Hulu Rokan, Geological Engineering Alumnus) won the Bronze Medal and The Most Favorite Team at the Schlumberger Data Science Hackathon 2021.
The competition was organized by the multinational company Schlumberger to bring together professionals, students, and fresh graduates to solve problems in the energy sector through data science.
Team member Radista revealed Hackuna Matata proposed a solution for the Oil & Gas industry through Petrophysical Analysis for Hydrocarbon Prospect Zone Identification and Classification of Rock Facies using Supervised Machine Learning Method with Cloud-Based Technology.
"The solution offered is in the form of a cloud-based, supervised machine learning application called Private, short for Petrophysical Virtual Analysis Technology, to predict petrophysical data from a field," said Radista, Monday (18/10).
He added the team used several machine learning algorithms, including XGBoost, Random Forest, Extra Trees, Artificial Neural Network, and Support Vector Regression. The system also has a built-in spatial data analysis feature to monitor the distance and trajectory of each well in the oil and gas field.
The hackathon, which was held from May to October, comprised three stages, namely proposal, prototype, and pitching. As many as 271 teams participated in the event, including various universities and companies, such as Universitas Gadjah Mada, Bandung Institute of Technology, Sepuluh Nopember Institute of Technology, Pertamina, Petrochina, Chevron, and Medco EP.
"We are grateful for the opportunity to participate and compete in this prestigious event. Despite being held in an online environment, the competition still evokes a sense of competitiveness and enthusiasm," added Ilham.
Author: Gloria