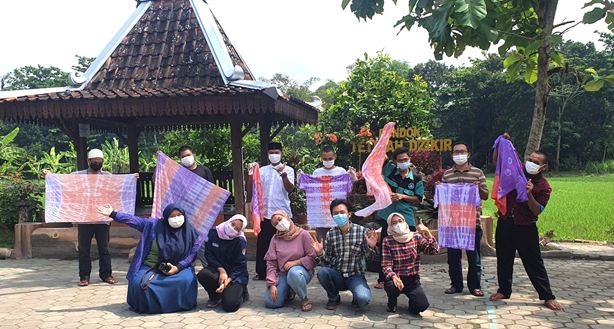 Savira Noor Febry, Risa Dewi Ariani, Ulayya Zahiyatul Arifin (Faculty of Social and Political Sciences), Tasnim Arma Fauzia, and Naufal Habibi (Faculty of Engineering) teamed up to initiate entrepreneurship training for santri undergoing rehabilitation at Pondok Tetirah Dzikir Rehabilitation Center. The training covers the production of eco-printed and jumputan (tie-dye) batik and product marketing and distribution strategies.
"Hopefully, the proceeds from the sale of these products can help cover the operational funds of the Rehab Center, which so far relies a lot on donations from external sources," said Savira, Tuesday (19/10).
Savira added that the training resulted in the production of 40 jumputan batik t-shirts and several meters of eco-printed fabric. The team also formed a business unit at the Center that would run independently and sustainably for the long term. The santri are positioned to run various tasks, such as marketing, production, distribution, and training. Social media becomes the platform of choice to facilitate promotion and collaboration.
"As many as 17 jumputan batik t-shirts are sold already. The marketing activities have also reached several influencers," said Savira.
The person in charge of Pondok Tetirah Dzikir Rizal said this activity had enhanced entrepreneurial mindset and introduced new skills to the santri, especially on jumputan batik, eco-printing, and marketing. He hopes it can create an entrepreneurial climate within the Center, thus helping them to have additional income besides donations.
"The santri can express themselves by eco-printing and making jumputan batik. When returning to the community, we hope they can live as independent individuals," said Rizal.
Author: Gusti Grehenson