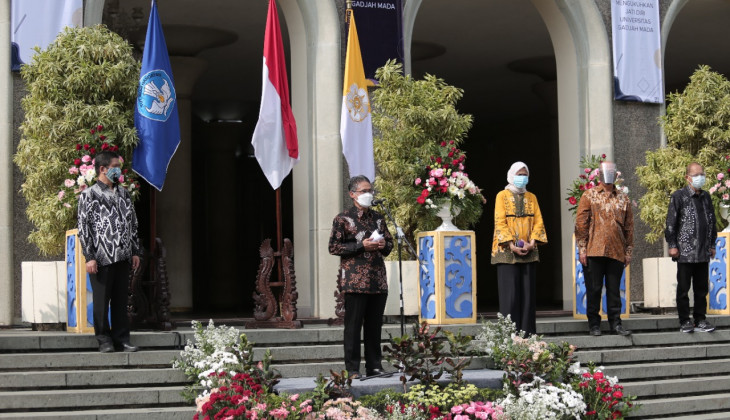 UGM Rector Professor Panut Mulyono inaugurated 20 Health Promoting University (HPU) Ambassadors and 20 Mental Health First Aiders at the Opening Ceremony of the 72nd Anniversary of Universitas Gadjah Mada, Tuesday (26/10).
The HPU program, which was launched in 2019, is an approach to creating a learning environment and organizational culture that improves the health and well-being of all academics in a sustainable manner and encourages academics to optimize their potential.
"At the meeting of the Rector's Council, the President said that universities must generate excellent graduates who master knowledge as well as possible, are physically and mentally fit, and possess good character," said the Rector.
HPU covers activities that promote health literacy, physical activity, healthy eating, mental health, zero tolerance for drugs, tobacco, and alcohol, zero tolerance for violence, bullying, and harassment, and a healthy, safe, and friendly environment for people with disabilities.
HPU Ambassadors play a role in encouraging healthy lifestyle behaviors and a healthy campus environment, and Mental Health First Aiders is expected to help UGM students who need support throughout college.
"They are the ones who will receive complaints if any of the students experience unpleasant things or have learning difficulties. Their presence is expected to help find solutions to various issues faced by students," said Panut.
Chair of the 72nd Anniversary Committee Gugup Kismono said realizing a healthy Indonesia and strengthening the University's identity were two major focuses for this year's anniversary. UGM is committed to producing innovations in responding to the COVID-19 pandemic and creating a healthy nation.
"The theme is very relevant since we are still facing a pandemic. We need to strengthen UGM's contribution to various national problems through education, research, and community service," said Gugup.
Author: Gloria
Photo: Firsto