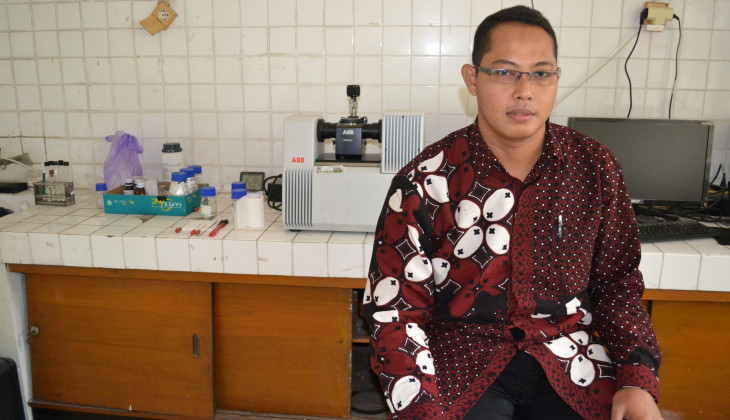 Three UGM researchers, namely Professor Abdul Rohman (Pharmacy), Professor Muh Aris Marfai (Geography), and Professor Ahmad Maryudi (Forestry), have been listed as the world's most influential scientists, according to a study conducted by Stanford University.
In the study published on 20 October 2021, Stanford researchers, namely Professor John Ioannidis, Jeroen Baas, and Kevin Boyack, present a list of the top 100,000 scientists whose work has been widely cited by other researchers around the world.
"Featuring in the Top 2% Scientists Worldwide proves that UGM researchers are internationally recognized, and their publications are widely cited," said Professor Mustofa, UGM Research Director, on Thursday (28/10).
According to him, the list is made based on several parameters, namely the total number of papers until 2019, publication requirement of 5 at a minimum by 2019, the number of citations, h-index, co-authorship adjusted hm-index, citations to papers in different authorship positions, and a composite indicator.
He added that UGM had taken various efforts to encourage researchers to escalate their international publications and improve their overall research quality over the years. Some measures include but are not limited to increased research programs, writing workshops, language editing assistance, incentives, awards, and international seminar opportunities.
"UGM customizes support for researchers based on basic, applied, and development research. Support for basic research is, for instance, facilitating researchers who focus on having publication outputs," he explained.
He hopes this Top Scientists recognition will inspire other academics at UGM to excel and thrive in research in their respective fields. Also, the findings of UGM researchers will have a significant impact on the community.
"We encourage research results to be downstream-ed so that they can benefit the community," said Mustofa.
About the Three Researchers
Professor Abdul Rohman of the Faculty of Pharmacy is an expert in pharmaceutical chemistry and halal product analysis. Driven by his interest in Halal studies and authentication of food products, pharmaceuticals, and cosmetics, he serves as Chair of the Center for Excellence in Science and Technology at the UGM Institute for Halal Industry and System. He has generated an h-index of 28, a total of 80 scientific works, and has been cited 1,836 times since 2009.
The first runner-up of the 2014 ProSPER.Net-Scopus Young Scientist Award found that research on Halal products is still lacking and considered less attractive despite its intriguing potentials. As reported by the State of Global Islamic Economy in 2019, 1.9 billion people in the world belonging to the Muslim community has recorded a total expenditure on halal products of USD 2.02 trillion.
"Research on halal products has to be encouraged for the potential is quite huge. In addition, such research is important for Indonesia given our status as the largest Muslim population in the world," said the Editor in Chief of the Indonesian Journal of Pharmacy.
Professor Muh Aris Marfai is a researcher on coastal geomorphology and geospatial information, who currently serves as Head of the Geospatial Information Agency. His interest grew because of the archipelagic characteristics of Indonesia. He believes that research exploring these fields can provide benefits to the people.
Professor Aris earned his doctorate in Geography and Natural Disasters at Justus Liebig University Giessen, Germany, in 2008. He has an h-index of 16 and 33 scientific papers and has recorded 752 citations since 2007.
"With two-thirds of Indonesia's territory being the ocean, the dynamics of potential and coastal resources are worthy of studies," he explained.
Professor Ahmad Maryudi has conducted research and publications related to forestry policies, forest governance, and land use, including community forestry and social forestry policies, since 2005. He has an h-index of 23 and 24 scientific papers and has received as many as 609 citations since 2012.
Currently, he serves as Head of the Center for Forest Policy Research and Historical Studies and Deputy Coordinator of Division 9 Forest Policy and Economics at the International Union of Forest Research Organizations (IUFRO). He is also an editor at Forest Policy and Economics, a highly reputable scientific journal published by Elsevier and indexed by Scopus (Q1) and Thomson Reuters (Q1).
Author: Ika