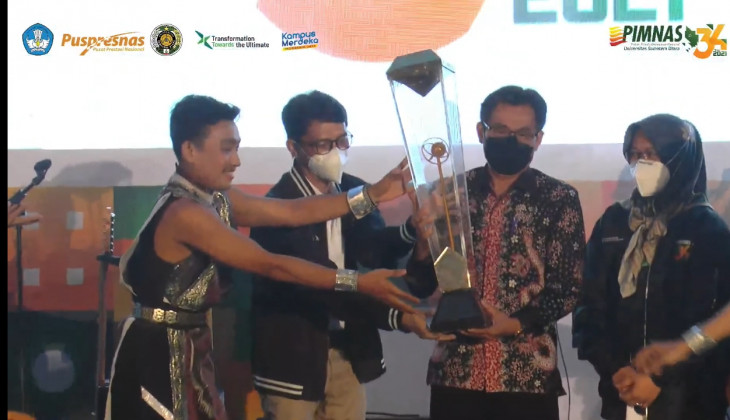 The 34th National Student Scientific Week (PIMNAS) concluded with success on 29 October. This year's win marks UGM as the defending champion of the national competition for four consecutive years with 54 medals.
UGM Vice-Rector for Education, Teaching and Student Affairs Prof. Djagal Wiseso Marseno appreciated the UGM contingent for their hard work and determination throughout the competition. He acknowledges that such proud results are from collaborative support among students, supervisors, mentors, and everyone at the University.
"PIMNAS is the most prestigious scientific competition in Indonesia. Since 2018, UGM has always proven its excellent qualities by coming out as the overall winner. It is a very proud and extraordinary achievement for it is the first time around there is an overall winner defended its title for four consecutive years," he explained, Saturday (30/10).
Djagal hopes UGM can win again at the upcoming PIMNAS. The University will strengthen its commitment to supporting students by providing improved guidance, infrastructure, and funds.
"It's way more difficult to maintain the title. Hopefully, we can finish as winner again next year," he said.
Head of Sub-Directorate for Creativity Suherman Ph.D. explained UGM was the largest contingent among other universities. This year, as many as 124 teams from UGM have qualified for the event, winning 14 gold medals, 21 silver medals, and 19 bronze medals. Two teams were also crowned as favorites in the presentation category.
"The relentless efforts of the contingent are greatly appreciated. We thank everyone involved, such as supervisors, mentors, UGM PKM Center, and faculty and university leaders, for their support along the way," said Suherman.
The National Student Scientific Week (PIMNAS) is a national-level student competition held annually by the Ministry of Education, Culture, Research, and Technology. This year, the competition received 3,126 participants from 108 universities across Indonesia. The event challenges students in nine categories: futuristic ideas, written ideas, entrepreneurship, creation, innovative works, science and technology application, community service, science and technology research, and social science research.
Author: Ika