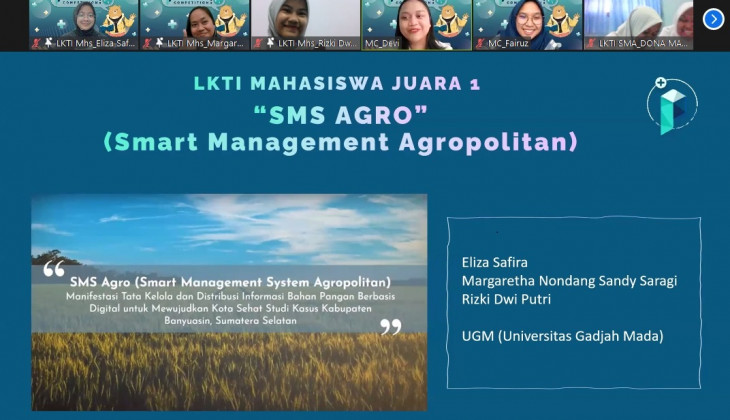 Three teams of Urban and Regional Planning students were announced winners of the 2021 Planopolis ITS on 30 October. The competition was organized by the Planology students of Sepuluh Nopember Institute of Technology. The UGM squad won two out of five categories contested, namely scientific writing and podcast categories.
The winners and runners-up of the writing category proposed Smart Management System Agropolitan (SMS Agro) and Enhanced Supply Chain for Suboptimal Fruits in Yogyakarta. The winners, Eliza Safira, Margaretha Nondang Sandy Saragi, and Rizki Dwi Putri, put forth a more optimal digital-based food distribution system through the SMS Agro initiative. The students found many regions in Indonesia lacked coherent supply chain systems.
"The purpose of the SMS Agro is to increase the affordability and utilization indexes that are in line with strengthening food security, thus creating healthy cities/regions," explained Margaretha on Tuesday (9/11).
On the other hand, the runners-up, Yehezkiel Hendro Christomo, Nadya Marshanda, and Rifqi Ananda Guswiputra, came up with the Bagya initiative (Buah bagi Yogyakarta/Fruits for Yogyakarta) due to a large amount of suboptimal fruit waste in Indonesia. Despite their imperfection, the said fruits have the same nutritional content as the others hence capable of fulfilling the daily nutritions of the community.
"We hope this work can be a reference and recommendation for various parties involved in the fruit supply chain. This achievement serves as a trigger for us to take our performance to the next level and do the University proud, nationally," said Rifqi.
Lastly, the podcast winners comprising Tasnim Arma Fauzia, Rachmiani Aprilliana Dewi, and Sitriani Lamada outperformed other participants in the category through their engaging discussion that encourages a healthy lifestyle for a healthy city order. The team highlighted the interplay between clean living and the availability of city facilities and infrastructure.
"Topics discussed are close to everyday life such as public spaces around settlements, management of sanitation and solid waste, transportation systems, and health service facilities," said Tasnim.
Author: Desy