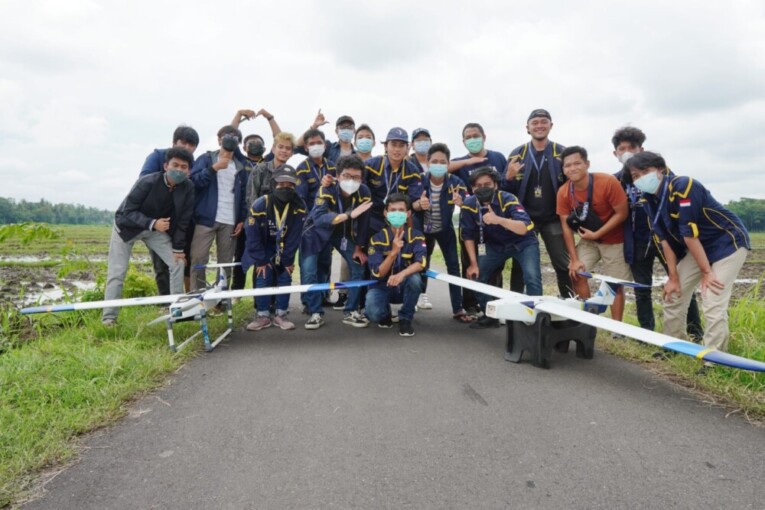 The Gadjah Mada Flying Object Research Center (Gamaforce) won the overall winner of this year's Indonesian Flying Robot Contest (KRTI) held online, 15-20 November. UGM dominated the government-organized competition with five gold medals and one consolation prize.
"Congratulations to the Gamaforce team for the achievement at the 2021 KRTI," said UGM Vice-Rector for Education, Teaching, and Student Affairs Professor Djagal Wiseso Marseno at the awarding ceremony on Saturday (20/11).
Head of Gamaforce Supervisors Dr. Andi Dharmawan said dedication and interdisciplinary collaboration were the two key factors that helped the team reclaim the overall winner upon last year's broken win streak. Students of diverse backgrounds, some of which were Electronics and Instrumentation, Computer Science, Mechanical Engineering, and Communication Science, teamed up to make this happen.
"Gamaforce has proven its quality through this win. Hopefully, we can defend the title next year," said Andi.
Team leader Made Naradhipa Kanishka Bayu praised the whole team for their unwavering commitment despite the pandemic limitations.
"Gamaforce will continue to support the aerospace's development by research, and, hopefully, contribute to Indonesia one day. Jagat Saksana Dirga (Guardians of the Horizon)!," said Nara.
A total of 163 teams from 61 Indonesian universities participated in the competition this year. The four categories contested were Racing Plane, Fixed Wing, Vertical Take-off and Landing, and Technology Development.
The following lists the categories won by the subteams of Gamaforce:
Fiachra Aeromapper – Winner of Fixed Wing
Khageswara – Winner of Technology Development (Flight Controller Development), Winner of Technology Development (Ground Control Station), Winner of Technology Development (Propulsion System Development-Prime Mover), Winner of Technology Development (Propulsion System Development-Propeller)
Rasayana – Consolation Prize Winner of Racing Plane
Author: Ika