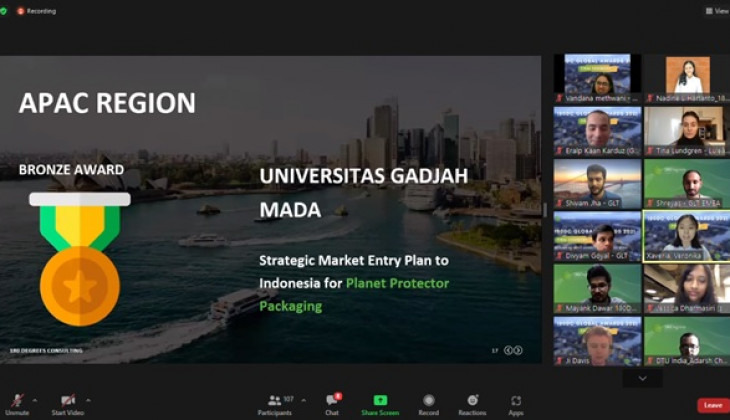 180 Degrees Consulting (180DC) UGM has been named third-place winner of Best Consulting Project in the 180 Degrees Consulting 2021 Global Awards for its outstanding work, Strategic Market Entry Plan to Indonesia for Planet Protector Packaging. The student-led consultancy has also picked up the Best New Branch award for the Asia Pacific region.
Marketing Analyst at 180DC UGM Nadine Larasati Hartanto said the awards were all thanks to the hard work and commitment that the team has given in providing quality and affordable consulting services for MSMEs, non-profits, and non-governmental organizations. Since its inception in late 2020, 180DC UGM has taken care of several projects from various national and international clients.
"As the first branch in Indonesia, which has only been established for approximately one and a half years, these awards are indeed a memorable first achievement," she said on Tuesday (11/30).
This year, the 180DC Global Awards took place on 13 November and was attended by more than 175 branches of 180DC in 35 countries. Gold and Silver winners of the Consulting award in the APAC region are Monash University and IIT Kharagpur. Alongside UGM, the University of Exeter and the University of Virginia serve as Best New Branch award holders, representing their respective regions.
"This achievement is a motivation for 180DC UGM to provide the best consultation for its clients and win more global awards next," she said.
180DC is the world's largest international university-based consultancy that provides services to non-profits and social enterprises. Currently, it has more than 10,000 carefully selected and professionally trained student consultants across the world. It has also dealt with over 5,200 projects across various sectors, including health and the environment.
Author: Ika