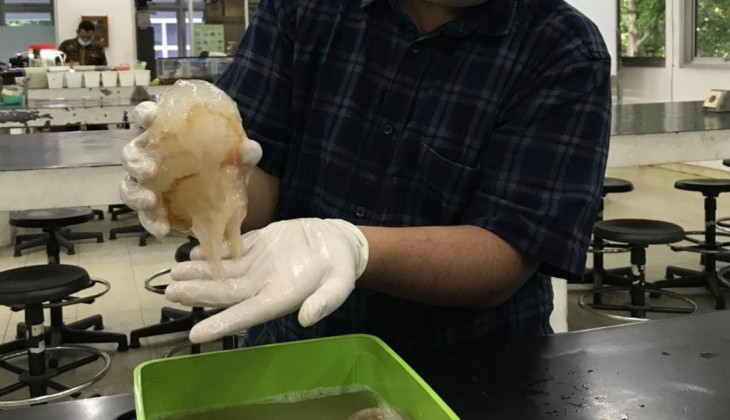 Research by a mix of Biology and Pharmacy undergraduates has found that jellyfish venom proteins have the potential to become an inhibitor of breast cancer cells. The team, consisting of Aden Arrafif Bahtiarsyah, Muhamad Rafli, Sylvia, Khintan Maulin, and Rachmat Febriansyah, performed in silico analysis and testing to examine the possibilities.
Team leader Aden explained that jellyfish contain abundant vitamins, minerals, and proteins, one of which is nematocyst-derived venom that can be used as an alternative treatment for breast cancer. They have various peptides, enzymes, neurotoxins, cytolysins, and hemolysins, which function as an antimicrobial, anti-oxidative, anticoagulant, antitumor, and cytotoxic.
"Crude venom, phospholipase A2, and metalloprotease function well to reduce the migration of breast cancer cells," said Aden on Wednesday (1/12).
Sylvia added that the receptors need to be blocked by computational testing. In this study, the jellyfish venom proteins were tethered with ER-α and observed through in silico modeling. The protein bioactivity, she continued, can be used as an immunostimulator, anticoagulant, pain reliever, antihypertensive, apart from suppressing cancer cells.
Another team member Kintan said jellyfish (Class: Scyphozoa) are one of the most abundant living creatures scattered almost everywhere in Indonesia. They are also among bioprospecting resources that can be leveraged for various sectors, such as health and food.
"Marginal filaments, where efficacious and beneficial venom proteins are found, are believed by several previous studies to have content that can inhibit cell migration," said Khintan.
Being carried out intensively at several laboratories at UGM, Rafli added this research aimed to generate a representative value for ER-α inhibition by molecular docking, where the HADDOCK score of Gamma-glutamyl Hydrolase was -16.1, and the RMSD value was 1.1 Angstrom.
"This research shows that the average jellyfish venom protein content is 4.98 ppm, meaning these have the potential to inhibit breast cancer, especially the ER-α receptor. With these results, it is hoped that there will be more research on marine life that can be useful for breast cancer treatment in the future," said Rafli.
Author: Agung Nugroho