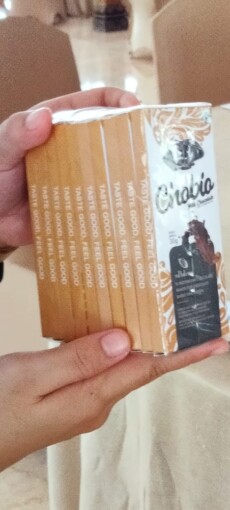 In collaboration with Cokelat nDalem and the Yogyakarta Assessment Institute for Agricultural Technology, UGM Center for Food and Nutrition Studies launched its very own probiotics-containing chocolate, Chobio, Wednesday (9/12).
Professor Endang Sutriswati Rahayu said Chobio had been clinically tested and proven to help prevent stunting and obesity and improve digestive health. Research conducted in Belanting, East Lombok, showed that consuming Chobio can balance the gut microbiota population in the digestive tract of children and help reduce the risk of stunted growth.
"We hope this will be the start of how Chobio can provide benefits to the surrounding community," said Endang.
She hopes to expand Chobio's reach to all areas in Yogyakarta, inclusive of the remote ones and those with a high prevalence of stunting. Having participated in the Ubud Artisan Market, Chobio is expected to increase public knowledge about probiotics and their benefits for digestive health.
"Most people think all fermented foods automatically contain probiotics. Not all fermented products do, though," said Endang.
Meika Hazim, CEO of Ndalem Indonesia, said Chobio is already on the market. While the prospects are good to penetrate the offline market, the pandemic has forced the team to maximize online platforms to sell the products. She hopes many parties will continue to promote this probiotic chocolate, given its tasty chocolate bites and health benefits.
"We have entered Jakarta, but most of our products are sold through online marketplaces. Due to the pandemic, many offline stores are not willing to collaborate," said Meika.
Author: Agung Nugroho