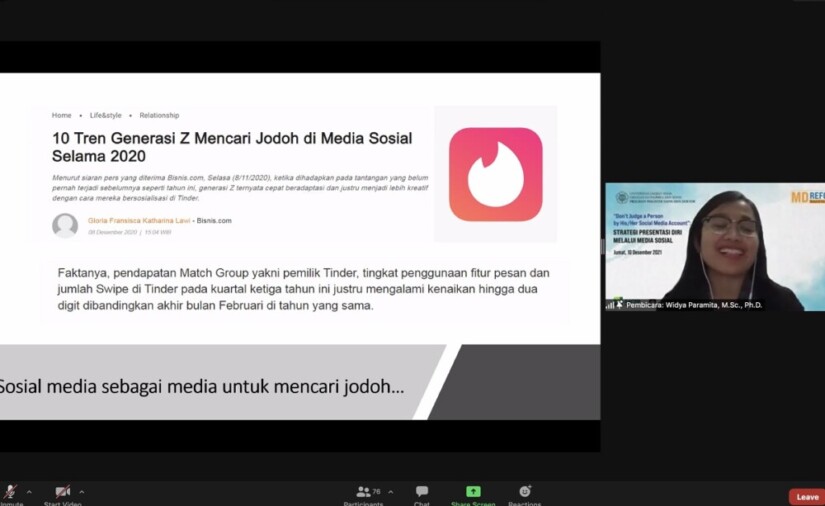 Marketing lecturer at the UGM Faculty of Economics and Business, Dr. Widya Paramita, discussed the importance of a strategic self-presentation to optimize the benefits gained on social media in the Faculty webinar, Friday (10/12).
"Self-presentation is people's attempt to manage the impression of others on them. Generally, people want to be perceived positively by others," said Widya.
As an inseparable part of our daily lives, social media is no longer just a means of communication. People can take advantage of the ease of social media to find a potential partner on dating sites, hire employees, apply for jobs, or do business.
For example, a trend in 2020 points out that Gen Z members tend to look for partners on social media. According to Widya, such cases show that one's trust and literacy towards social media have increased. Hence how people decide on specific strategies to present themselves on social media becomes important.
"In the US, it is reported that 90% of recruiters use LinkedIn to recruit their employees. In terms of business, many users now utilize social media to become influencers," she said.
In a study she conducted with Felix Septianto, a senior lecturer at the University of Queensland, Widya found that humblebragging as a self-presentation strategy generates both positive and negative responses, depending on the person's status–celebrity or influencer. According to Widya, humblebrag results in a positive brand attitude when performed by celebrities but negative when done by influencers.
She explained people consider bragging as a natural thing for influencers to increase their status. So, when they do humblebrag, these influencers are considered less grateful, stirring up anger/irritation in the general public. Celebrities who humblebrag, in contrast, are deemed reasonable and fun.
For more info about Widya's research, visit this link.
Author: Desy