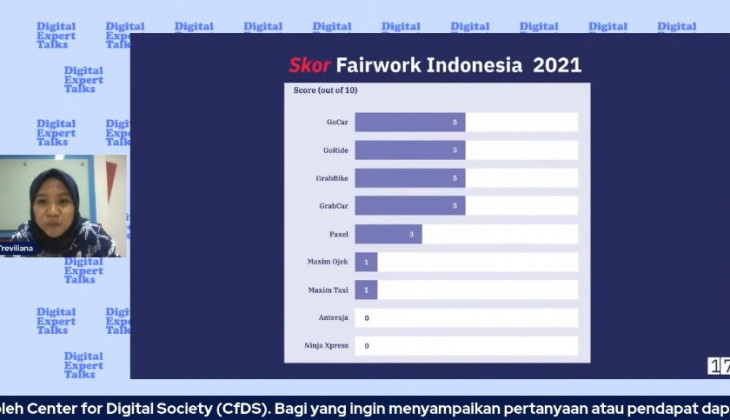 In collaboration with the University of Manchester, Oxford University, and Fairwork Foundation, UGM Center for Digital Society (CfDS) has released a study report evaluating fair work practices and standards from six of Indonesia's leading gig economy platforms, namely Gojek, Grab, Maxim, Anteraja, Ninja Xpress, and Paxel.
Lead researcher of Fairwork Indonesia and research manager of CfDS, Treviliana Eka Putri, said that in this first-ever assessment conducted in Indonesia, the six platforms overall scored low against the five principles of fairness set by Fairwork.
Gojek and Grab (both their respective motorcycle and car-taxi services) scored 5 out of 10, making them the highest scorers of all. Paxel comes next with a 3/10 rating and is followed by Maxim (Ojek and Taxi) with 1/10. The bottom positions are occupied by Anteraja and Ninja Xpress, each rated 0/10 due to the absence of data that can be shown/provided by the said platforms.
The first principle, Fair Pay, assesses whether workers earn a decent income according to the regulated minimum wage after taking account of work-related costs, such as gasoline, vehicle servicing, rent, or insurance, and work hours. The result shows all of these platforms fail to ensure that their workers earn no less than the minimum wage.
The second principle is Fair Conditions, which evaluates platforms' policies on protection against foundational risks at work (e.g., accidents, sexual harassment, etc.) and proactive measures to guarantee the safety and health of workers. Only Gojek, Grab, and Paxel have evidenced protection for workers by providing accident insurance, emergency assistance, access to health insurance, training, and others.
In terms of Fair Contracts, the team found the majority of platforms (Gojek, Grab, Paxel, and Maxim) have provided clear terms and conditions that are accessible for workers. However, none could prove that risks and liabilities are shared equitably between them and their workers.
"So, work contracts are not only stored by the platform but also by workers and are accessible at any time," said Treviliana on Monday (13/12).
Furthermore, platforms are expected to have documented mechanisms and policies for communication channels that enable workers to lodge an appeal against management decisions affecting them. Only Gojek and Grab have ticked the standards specified in this Fair Management category.
"In the event of deactivation, the channel to contact the platform must be available outside the app. So, workers who no longer have access to the app can still appeal through other means," added Treviliana.
The last principle, Fair Representation, examines whether workers have the right to voice their opinions and organize in collective bodies. Although there have been worker associations, none are formally recognized in law or by the platforms.
See this link for more details on the report.
Author: Aji