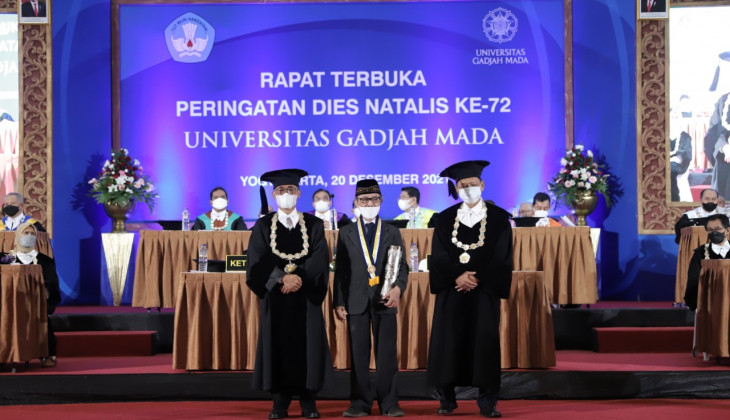 The 72nd-anniversary celebrations of Universitas Gadjah Mada have concluded with great success. Marking the last day of the month-long festivities, the University's distinguished figures and alumni attended the hybrid anniversary meeting at Grha Sabha Pramana, Monday (20/12).
In his remarks, UGM Rector Professor Panut Mulyono invited all invitees and the UGM community to reflect on the University's commitment to serving the interests of the nation and humanity amid the COVID-19 pandemic.
"As a pioneer of national universities, UGM must serve as an institution that leads and takes the initiative to provide benefits to the community," said Rector Panut.
According to him, UGM and Indonesia face various cross-sectoral challenges in ensuring the sustainability of the country and the world, one of which is Industry 5.0 whose growth has been accelerated by the pandemic. UGM understands that quick and precise adaptation measures to the new normal are beyond crucial.
"Turning 72 years old, UGM seeks to strengthen internal and external synergies, increase cooperation with the government and all levels of society to provide a top-notch education for its students, and continue research and community service for prosperous Indonesia," said the Rector.
On this occasion, Rector Panut presented the Gadjah Mada University Award to Professor Adhi Susanto of the Faculty of Engineering in honor of his services in the development of science, technology, and art. Professor Adhi is an innovator of electronic gamelan known as Gameltron.
Chair of the UGM Board of Trustees and Indonesian Minister of State Secretary Professor Pratikno gave a speech inviting UGM and all parties to advance Indonesia on the world stage. Indonesia must show resilience and perseverance to gain momentum for post-pandemic transformation.
"We all have to take this momentum to build Indonesia. Innovation, new ways of thinking and doing, and hard work must not stop," said the Minister.
Author: Gloria
Photo: Firsto