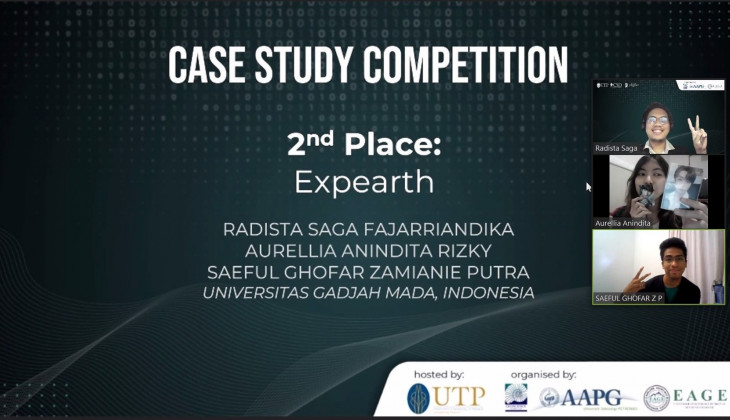 Three UGM students, namely Radista Saga (Geological Engineering), Aurellia Anindita Rizky (Geological Engineering), and Saeful Ghofar (Geophysics), have been crowned Case Study runner-ups of the 2021 Asia Geoscience Student Conference & Exhibition (AGSCE).
In the Case Study category, students are challenged to apply geological and geoengineering interventions to solve climate change problems. They came up with a solution called the Advanced Approach for Climate Mitigation through Tackling Permafrost Thawing Catastrophic: New Opportunities for Geoscience Role in Climate Issues.
"We provide a report on the role of geoscientists in addressing climate change issues, particularly in permafrost thawing, through geoengineering approaches," said Aurellia, Monday (3/1).
AGSCE is an annual seminar-competition event hosted by AAPG & EAGE Universiti Teknologi Petronas, Malaysia. There are three categories contested, namely Geoquiz, Case Study, and Paper & Poster, with participants from all over Southeast Asia. The 2021 event took place online for five days, from November 13 to December 16, 2021.
Radista added that this competition had encouraged the team to remain solid and creative in solving cases that are very relevant to current conditions. He hopes that the solutions provided by the team can help overcome the dangers of climate change.
"We are grateful for this achievement. We managed to overcome the challenges in the end," said Radista.
Author: Agung Nugroho